Microwave Red Onion & Cheddar Cheese Naan Pizza
|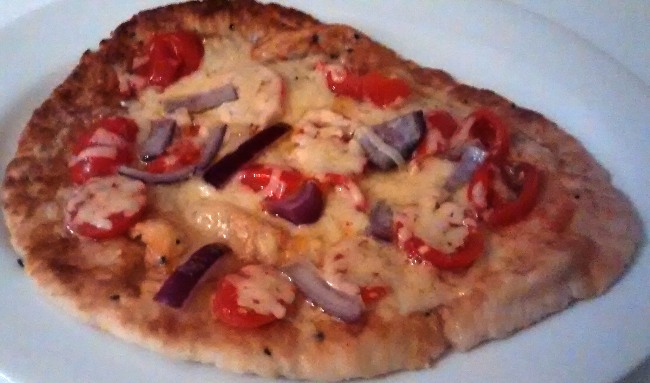 Using naan bread, or flatbread and putting pizza toppings on them can give you an instant DIY pizza with the minimum of effort or fuss.  Even if you're keen on making your own dough there are times when you don't have the time.
Add a microwave into the equation and you've got a tasty naan pizza in under 3 minutes.  Cooking for one's not everybody's cup of tea, so if you just need a quick meal, a quick snack, then this could be the answer!
I usually have a vacuum pack of naan breads in the bread bin, ready for those quick snack moments – all I need to do is choose pizza toppings, place the naan pizza in the microwave and 2-3 minutes later I can have a hot pizza on a plate!  Vacuum packed naan brads have a shelf life of about 2 months and don't take up valuable freezer space, which is why I like to use them.
As an alternative to a naan bread, there are often some interesting flatbreads in the bakery aisle of supermarkets, often with flavourings on top such as cheese & tomato or herbs.
The pizza toppings used on my naan pizza this week were:
cheddar cheese
red onion, frozen onions from the freezer that I'd bought and frozen earlier in the month
leftover cherry tomatoes, to finish off a punnet I'd bought
I'm not one for waiting a long time for the pizza to brown, once the toppings look good enough to me, it's job done, so, most of the time, it's irrelevant if I've cooked the naan in the microwave or an oven.
You don't even have to use a pizza base sauce if you don't want to – but if you've got tomato chutney, then a couple of teaspoons of that works well.