Uses for Birds Dream Topping
|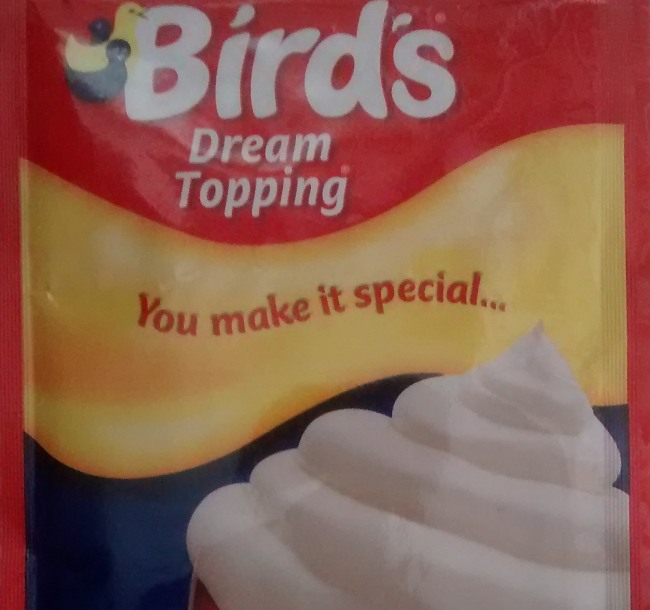 Birds Dream Topping is a whipped cream topping in a packet – it's the UK equivalent of Dream Whip if you're trying to make any American recipes.  Birds Dream Topping was almost a staple treat when I was growing up – used to top trifles or just to dollop onto a bowl of (tinned usually) fruit!
Dream Topping can be used in a lot of ways though and it's the perfect cupboard staple if you're cooking for one as dried foods in a packet can be opened, then resealed – it doesn't go off and doesn't take up any freezer space. I never buy cream as it needs using up and/or would languish in the freezer.  Using Dream Topping means I get round these issues and can always make a cold dessert on demand.
I'll always pick up some packets of Dream Topping in the run up to Xmas in case I have a sudden urge to make a Christmas Trifle!  If you've ever made a Birds Trifle you might think that the white topping should be thicker – it's just Dream Topping, so if you've got a packet in the cupboard you can make more and have a thicker top cream layer!
How do you make Dream Topping?
All you'll need is ~¼ pint of cold milk (150 mls) and a packet of Dream Topping.  One packet (weighing 36 grams) serves four people, so you can scale that back for the quantity you want to make.
I will typically make up 1-2 portions of Dream Topping by 1/4-ing the recipe: Single Portion of Dream Topping.
The official cooking instructions to make Dream Topping are:
Measure 150ml (approximately ¼ pint) of cold milk into a bowl.
Sprinkle the contents of the sachet into the milk.
Whisk for approximately two minutes, preferably with an electric hand whisk or rotary whisk, until the topping is light and fluffy.
To vary thickness, simply use a little more or less milk.
If the topping remains thin after whisking, whisk for a further two minutes.
The Dream Topping is now ready to be spooned onto fruit, cakes, trifles, or blended with other ingredients to make Dream Topping frosting for cakes, or to create flavoured mousse.
Note: If you whisk by hand, like I do – the whisking part will take you 3-4 minutes to make a full packet … but it's OK to have a rest 🙂 – it does start coming together really quickly though, which is encouraging.
Store Dream Topping in the packet in a cool, dry place – your regular cupboards. Once made up with milk, store in a refrigerator and treat as fresh food.
Can You Make Dream Topping with Dried Milk or Evaporated Milk?
You can make Dream Topping with water if you wish (it actually creates a lower calorie whipped topping and makes a larger volume).  You can use any milk alternatives, such as dried milk (make it up as per the packet to form liquid milk) or even tinned Evaporated Milk.
I used to use dried milk to make Dream Topping; first I'd make up the dried milk with water, then I'd add the packet of Dream Topping and whisk (by hand as I've no mixer).  The dried milk can be any variety, but it's better to use dried milk that makes fresh milk, rather than products described as "coffee creamer".
Can You Freeze Bird's Dream Topping?
Once you've made your dream topping it can be kept in the refrigerator for 1-2 days, or you can freeze it.  This means it's perfect to make individual make ahead trifles (one of my favourite uses).
Dream Topping Recipe Ideas: 
Wherever you'd usually use cream, or whipped cream, you can substitute Dream Topping.
Whip and spoon over fruit, fresh, tinned or frozen fruit.
Use Dream Topping to finish off a trifle with a whipped cream layer – or even use it to add a deeper creamy topping to a standard box of trifle mix.
Dream Topping Banoffee Pie – one of my favourites.  Use Dream Topping as the top/white layer on top of your standard banoffee pie recipe.
Make a cream dessert – combine a packet of made-up Dream Topping and ½ pint of cold custard.  Add these to a jelly that's almost set (jelly made with ½ pint of hot water to give you an idea of volume).  Once combined and mixed, put into the fridge to set.
Chocolate Cream Dessert – combine a packet of Dream Topping with a packet of Angel Delight, 3/4 pint of cold milk and 50 grams of melted chocolate . Blend them together, then put into covered bowls in the fridge to set.
Use on top of a simple cheesecake recipe, to add a fluffy creamy top
Where Can You Buy Dream Topping?
Increasingly, as products fight for space on supermarket shelves, it can be difficult to track down this leading brand by Premier Foods.  You could add it to your online order if you already shop online at a major supermarket, or chance your luck in your local supermarket.  If it exists in your local store it'll be in the aisle containing custard powders and desserts.  A single pack (4 portions) will typically cost 75p-90p – but there's a triple pack too (which I tend to buy), containing three packs, each serving 4, so a total of 12 portions (a year's worth in my house!).
Aldi and Lidl don't sell it, to my knowledge – but I've seen it crop up from time to time in B&M and Home Bargains – but that's luck as it's not something they regularly stock.
You can, of course, buy Dream Topping from the Birds UK Amazon Shop if you don't have the time to go out looking for it!  At the time of  writing, Amazon Pantry members can buy it online for 75p/packet and Prime Members get free delivery. Remember, it keeps forever, so no date worries (if there IS a date on a pack it's not something I'd worry about – this is a dried product and in my book that means it keeps for years).