Quick Chicken Nuggets with Curry Sauce and Rice
|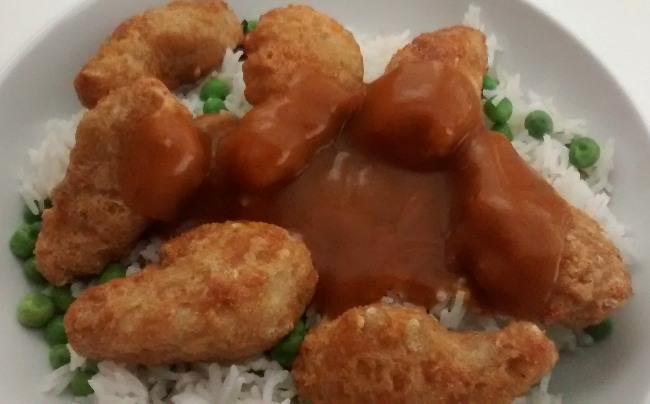 This quick chicken curry using Chicken Nuggets and curry sauce, served on rice, is an easy and quick meal to put together any day of the week.  I see this as a simple fakeaway recipe when I don't want to drive out to the Chinese takeaway to get chicken balls with curry sauce and rice!
I'd got the last of the chicken nuggets loitering in the freezer so needed meal ideas as I really wanted to see the back of them, so decided to make a cheats version of chicken curry and rice to help to empty the freezer!
Ingredients:
7 chicken nuggets, frozen – these were Sainsbury's own brand chicken dippers, but any brand will do
Instant curry sauce, I used Asda's, but I also have Bisto curry sauce available.
Basmati rice, which I steamed
Some frozen peas to jazz up the rice!
Method:
Well, it's not a recipe is it! But here's what I did:
I cooked the chicken nuggetss in the oven, I used my toaster oven for this as a mini oven's just the right size and takes no time at all to pre-heat.  I cooked them with the top and bottom elements on (top is a grill element, bottom is the oven element) for 20 minutes, turning them half way through.
The rice I microwaved in just 10 minutes, adding the peas made the dish a little more interesting looking: Rice & Peas.
Instant curry sauce granules are a staple in my cupboard – with just a kettle of boiling water I can make up a curry sauce for dipping, or pouring, in under a minute.  Simply spoon out 1-2 teaspoons of the powder into a small cup/pot and add boiling water; firstly add just enough water to cover the granules and then add a little more at a time as you stir it together until you get the consistency you want.
Then it's a simple construction: rice/peas into the bowl, chicken in breadcrumbs on top, curry sauce where you fancy it!
As a quick and tasty fakeaway solution this works for me – and saves a fortune because once I walk through the doors of the Chinese takeaway they can easily lift £9 from me for my choice of food!
Menu Cost: 
I tend to use 7 nuggets from a bag of 42 Sainsburys Chicken Dippers because that fits neatly into six portions.  At £3/bag of 42 full price, the cost of 7 pieces is 50p.  The rice/peas and curry sauce will cost no more than 20p in total.
This meal therefore comes in at about 70p, instead of spending £9 at the Chinese (plus fuel cost to get there/back!).  That saving can pay for food for the rest of the week.