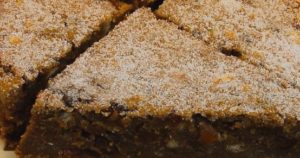 Our old family Nelson Slice recipe was what I was looking for this morning! Fed up with not having enough treats in my life I decided it's probably time for some simple cooking, especially as I seem to have bought a reduced loaf, so am facing "bread overload" this week.
Nelson slices have a variety of names.  Allegedly named after Admiral Nelson, a Nelson slice recipe is like a bread pudding recipe.  That's not a bread and butter pudding, but a bread pudding, which is more dense.  The "nod to Nelson" is that a Nelson slice will have a teaspoon of rum (or more!) thrown in.  Claimed by Norfolk  as their local dish, Portsmouth in Hampshire also has Nelson slices in their local food repertoire as Nelson was a sailor, so spent a lot of time at Portsmouth. 
We've family ties to Norfolk, but I suspect our own servings were after mum'd spent some weeks in a rest home in Hunstanton in the early 1960s after an operation, it'll have probably been a standard dessert in the Hospital ward and something she had been used to being served during the War by her own grandmother!
During WWII, bread pudding was a popular dish for those who didn't want to waste the last scraps of anything as it's a great recipe for throwing in what you've got in the cupboard.  Whether you call it bread pudding, or Nelson slice, is immaterial – as they say "it all goes down the same way"!
But where was the scribbled recipe I used to make?  I wanted this recipe in particular as it used water and not milk.  I've not always got milk; I try to keep milk powder in the cupboard, but sometimes it runs out 🙂
It's probably the best way to use up stale bread as there's a limit to how many breadcrumbs you can use, or how many half loaves you can keep in the freezer before it's full of frozen bread!  I try to avoid using the freezer as much as possible as mine's small and so is kept for favourite foods, not leftover bread!
Well, I found it, at last! I've converted it to grams, for "modern day" bakers.  This recipe can easily be scaled down to make fewer portions, just reduce the cooking time by 10 minutes or so and keep an eye on it so you can see when it's done!
Nelson Slice Recipe (using Water) 
Makes 8 slices, but it depends how large a slice you want.
Ingredients:
10-11 slices stale bread (450 grams, which is just over half a standard sliced loaf)
85 grams sultanas
85 grams raisins
85 grams butter, melted
110 grams sugar, brown if possible, for colouring
1 egg, beaten
2 tbsp marmalade, orange is traditional, but for a "twist" try others
1 tbsp rum (if you have it!)
A little fruit rind if you have it, lemon or orange
A pinch of nutmeg if you have it
2 teaspoons granulated sugar, for sprinkling on the top at the end
Traditional Method:
Break up the bread into chunks and soak it in water for 1 hour
Pre-heat the oven to 200C, 400F, Gas Mark 6, a moderately hot oven
Squeeze the water from the bread and break it up so there aren't any lumps
Stir in the sultanas and raisins.
Add the rest of ingredients and beat them together well
Butter or line a pie dish, or roasting tin and tip the mix into it.
Flatten it out so it's neat
Bake for 30-40 minutes.
Remove from the oven and while it's still hot sprinkle the top with sugar (regular white sugar's best)
Serve Nelson slice either hot as a pudding dessert, with custard, or leave to cool and eat it cold as a cake.
Store in the fridge in an airtight container and it'll keep for 2-3 days.
Can You Freeze Nelson Slices?
Yes. You can freeze Nelson slice.  Simply wrap it up in freezer bags, or foil and toss into the freezer.  Defrost either naturally, or use a microwave on low for a minute or so.  Once defrosted you can eat it cold, or put it in the oven to warm up, or into the microwave for 20 seconds or so, until it's warm enough for you.
Nelson Slice Variations:
These days you'll find most recipes using more luxurious ingredients, you can try:
Use milk instead of water.  You can use milk powder/water to make the milk. Indeed, you can also consider using any tinned milk variations.
Add in any other dried fruit you've got in the cupboards.  Cranberries work well, as do glace cherries (which is what I'm trying to use up this week).  A recipe is really a "start" and feel free to add your own ingredients.
Add in more lemon or orange rind if you've got it/like it – maybe even grating a little across the top before you sugar it.
I find older recipes more empowering as they give you the basic ingredients of a recipe, enabling you to add or use up your favourite ingredients.  Modern recipes, that start with a huge list of ingredients, make you feel that you've "missed out" if you've not got some of them!
Menu Cost:
I'm a cheapskate so buy the basics loaves for 36p, so this costs about £0.20 of bread, an egg's about £0.07, dried fruit can be bought in 500 gram bags at about £0.85/bag, this recipe uses two lots of 85 grams, making the cost of the fruit £0.27; without adding it all up, I'd guess that the total cost of this recipe is just £0.60 and it makes eight slices, that's 8p/slice.  To buy a slice in a bakery would most likely cost you 50p!  If you manage to spot a reduced loaf in a supermarket and think "what could I possibly make with a 10p loaf?" then this could be your "Go To Recipe".
I hope you enjoy your Nelson slices!  They make great picnic food.