Cocktail Sausages & Beans on Toast
|
I love the ready-cooked cocktail sausages and, as I'd bought a pack earlier in the week, I thought I'd try to eat them all without freezing any. You can freeze cocktail sausages, but I will try to get through the whole 400 gram pack.  I've been dipping into them as a fridge nibble for the past few days.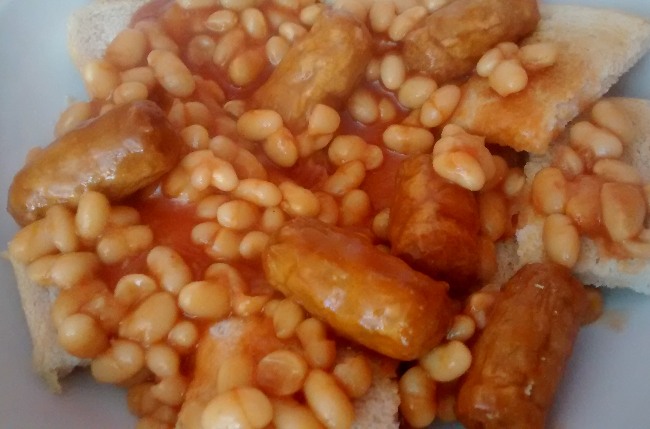 Today for lunch I had half a tin of baked beans to use up – and some bread to use up – so I decided to use some of the cocktail sausages with beans on toast!  A quick and easy lunch.
Ingredients:
6 ready-cooked cocktail sausages (any number you've got/fancy really)
Half a 400-410 gram tin of baked beans
Two pieces of toast
Method: 
Having toasted the bread, I cut each piece into six pieces and scattered them in the bottom of a lunch bowl.
Put the sausages into a microwave-safe dish and prick them, to make sure they don't explode.
Pour the half a can of baked beans over the top. Cover the dish and microwave on full power for 2 minutes.  Stir and test that the beans are hot – if not, microwave for a further 1 minute.
Pour the sausages and beans over the toast.
Optional: add a splash of brown sauce
A cheap and filling lunch in under 5 minutes.  Beans count as one of the 5-a-day; as a source of protein baked beans are a staple in my cupboard, they're so easy to cook and are always filling and tasty.
Menu Cost: 
Two pieces of toast is £0.04; the six ready-cooked cocktail sausages cost me £0.24; half a tin of beans cost £0.12.  Total cost of this filling lunch was £0.40.  I could've used fewer sausages, but I was in a bit of a piggy mood 🙂
The Cheats:
In this dish the cheats are that I've used ready-cooked cocktail sausages; I find them very versatile, the pack has a long shelf life and they're easily frozen.  Using the microwave instead of a saucepan to heat up the beans and sausages is not only faster, but I find it much easier to wash up a microwave bowl than a saucepan!
For those people who usually buy tins of sausages and beans ready mixed, this method of having cocktail sausages in the fridge/freezer means you only have to buy baked beans in the future, one less item to stock and manage in the cupboard!