Coleslaw & Jalapeno Pasta Salad
|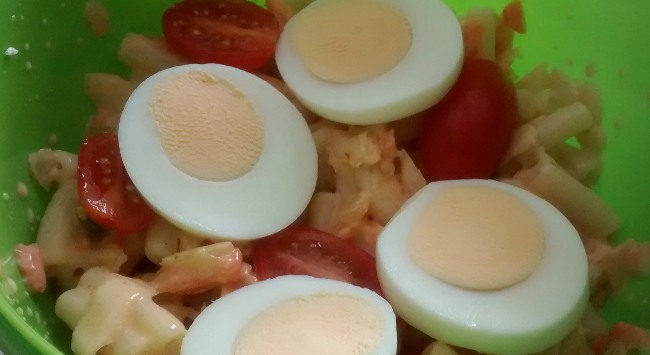 I was out all day yesterday at the Christchurch Food Festival – and still managed to come home starving 🙂
I opened the fridge and discovered I still needed to get through a few things in there, in particular the jalapeno coleslaw I'd made, some microwave boiled eggs I'd made and the seemingly never-ending tomatoes.  The most sensible solution seemed to be to make a simple pasta salad, using the jalapeno coleslaw (as it needed using up).
I used my microwave noodle bowls to cook the pasta, which is Sainsbury's basic range of macaroni – the reason for this is that the fitted lid will prevent the liquid from boiling over – also, as it's a fitted lid, it means that the moisture's kept in, so I wouldn't need as much water.
I did this as a "one pot meal" – after I'd drained and cooled the pasta, I returned it to the original bowl, mixed in the jalapeno, mayonnaise/coleslaw and ate it from the bowl!
Ingredients:  
60 grams dry macaroni
2-3 heaped tablespoons Jalapeno coleslaw – I used what I had left, to use it up
1 teaspoon of oil, well, a "splash" really
Salt for seasoning, if you wish
Boiling water, optional
Method:
Place the macaroni, the oil and salt in a microwave safe container (preferably with a fitted lid). The oil stops the macaroni sticking together so readily – if you don't have oil, you can still do this, without oil just expect to have to break up clumps of macaroni as it's cooking.
Add boiling water so it is about ½cm above the level of the pasta.  You can add more as it's cooking, but keeping the volume low prevents the microwave dish spilling over.  The boiling water is optional – you can use cold water and just add 1 minute to the overall cooking time as the microwave will have to boil the water first.
Fit the lid – and open the vent if you're using a click n lock style microwave bowl.
Microwave on half power for 2 minutes. Stir and return to the microwave oven
Microwave (still on half power) & stir every 2 minutes until the macaroni is cooked, which you can do by taste.  It should take about 8 minutes (my microwave is 800 watts).
Strain the water off and rinse the macaroni through with cold water to cool it quickly (because we're using this as a cold salad item).
Add the jalapeno coleslaw to the pasta and mix it all in.
Optionally top the jalapeno pasta salad with random salad items you've got available, I had boiled eggs and tomatoes!
Eat.
You can store this in the fridge for 2-3 days in a covered pot.  Don't freeze it, it'll come out manky 🙂
Cooking Pasta in a Microwave:
Macaroni is very simple to cook – indeed, you can simply cook it without any oven, by covering it in boiling water and putting a lid on it – then waiting, occasionally replenishing the boiling water – all pasta will eventually soften in this way, hence "cooked".
Using a microwave just speeds up this process.  It's the same as boiling macaroni in a saucepan as all you're doing is boiling the pasta in hot water!  But, when you use a microwave, you don't need as much water.  What's more important is to try to prevent your microwave safe dish from spilling over.  Simply start with enough water to cover the macaroni and check/top up the water and stir it a few times, say every 2 minutes.
Garden BBQ:
This jalapeno pasta salad is a great side dish for your garden BBQ – if you use the lidded microwave bowls then you can make a few salads like this, then pop the lid on and put them in the fridge.  Make them a day ahead!
When you have your BBQ simply take them outside and onto the table.  The lid's handy to keep the contents fresh and there's no glassware to break!  They're also really easy to rinse out/wash once you've finished.  They make great, cheery, serving dishes.
Menu Costs:
At the time of writing, Sainsbury's macaroni at full price is £1.20/Kg, or £0.85/500grams.  I've set one portion in this recipe to be 60 grams, which is a cost of £0.07-£0.10.  That's a great frugal salad item that can then be pepped up with other ingredients to make a multitude of pasta salads!
As a side dish for a BBQ, where other food'll be eaten, I'd probably be looking at factoring just 20-25 grams/person!
Everybody loves a pasta salad – and they're so cheap to produce!