Lidl Chicken in Breadcrumbs, Calories and Time to Cook
|
I've just picked up a pack of four (Braemoor) Lidl Chicken in Breadcrumbs, not something I've bought before. The pack calls them "4 Breaded Chicken Steaks".
I've mostly been put off before as it's a pack of four, which is a major commitment to liking them and getting through them 🙂 As they're currently part of the Lidl offers, I thought they were worth trying, priced at £1.19 for four (opposed to the full RRP of £1.59).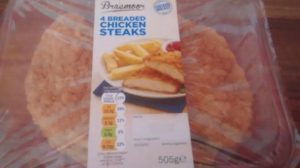 The cooking instructions are on the bottom of the pack though, in tiny writing, so I did have to take the bull by the horns and just hope it didn't say to cook for too long!
These are actually the Braemoor brand, sold through Lidl. The pack size is just over 500 grams. To cook them the pack says 25-27 minutes in an oven at 200°C. That's pretty much on my boredom threshold when it comes to cooking times! But, it is possible to speed this up if you wish.
Food Cheat:  The food cheat here is that one way to cook these chicken in breadcrumbs quicker would be to put them into a microwave-safe dish, covered, then microwave on full power for about 5-6 minutes before putting them into the oven/under the grill to finish off and brown off for about 10 minutes.
They would be safe to eat if you just cooked them in the microwave (I'd give them about 9-10 minutes, turning every 3 minutes) – but the breadcrumb coating would be a bit soggy.
Serving Suggestions:
You can cut them in half and slide half of one of the chicken steaks into a bread roll and eat it as a chicken burger. I did that with one of this pack!
Serve with chips and peas – probably what I'll do.
Cut the cooked chicken steak into strips and serve with a dip.
Serve with mashed potato and mixed vegetables.
As I said, the product information is on the bottom – and in tiny writing, so I like to keep a note (here!) of the information so I can check it before I buy a product again.
Is this 100% Chicken?
The packet describes the product as "Chopped and shaped chicken breast in a crispy breadcrumb coating.", then goes on to say it contains: Chicken breast 63%, water, breadcrumbs (fortified wheat flour), salt, paprika.  These chicken steaks in breadcrumbs are produced in Northern Ireland using EU chicken.
Cooking Instructions:
The following are guidelines only. Some appliances may vary.
Remove all packaging before cooking.
Oven Cook: Preheat oven to 200°C/Fan 180°C/Gas Mark 6.
Place steaks on a baking tray and cook in the centre of the oven for 25-27 minutes.
Oven Cook from Frozen:  As above, adjusting cooking times to 32-35 minutes.  Ensure food is piping hot and cooked throughout before serving. Do not reheat.
Storage Instructions:
Keep refrigerated, 0-4°C. Suitable for home freezing.
Defrosting:  Defrost thoroughly in refrigerator before use. Use within 24 hours of defrosting. Once defrosted do not refreeze.
Can you Freeze Chicken Steaks?
Yes.  These are fine for home freezing, the packet even says so.  The overall package is generous, if you've got freezer space you can just toss the whole packet into the freezer.  Personally, with a small freezer, I like to wrap each chicken steak individually in foil, then put all the foil wraps into a freezer bag with the cooking instructions and seal it so they all stay together.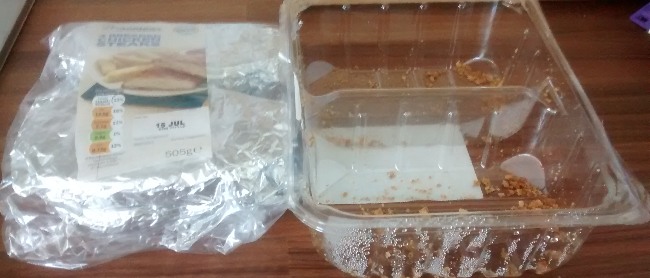 It's great when you can freeze things as that means you're not faced with eating them every day for the next four days to get through them 🙂 A scenario singles are perpetually faced with.
Calories in Each Chicken Steak: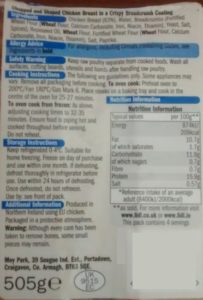 The packet weighs 505 grams, but ignore that 5 for ease of calculations.
Each chicken steak in breadcrumbs weighs 125 grams.
The packet says there are 209 kcal/100 grams, so each chicken breast contains about 260 calories.
Per chicken steak there's also approximately 13 grams of fat, 20 grams of protein and 16 grams of carbohydrates.
Menu Pricing:
At just £0.30 per chicken steak, (£0.40 when full price), this is the basis of a cheap main meal.
Lidl Product ID: 35548