Lidl Frikadellen Review
|
I'd seen the Lidl Frikadellen in the past, but hadn't picked up a packet as I wasn't entirely sure what they were, but that changed when I decided to find out. A little research showed me that a lot of people rated these Frikadellen as "good quality and tasty". I'd found that they didn't look that enticing in the packaging, but I was determined to find out what they tasted like and I was very pleasantly surprised!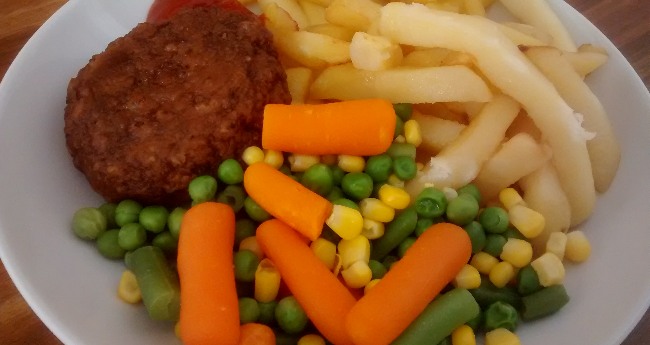 Firstly, Lidl Frikadellen are ready to eat. That's great, it means they are already cooked, you could actually eat them cold – perhaps as a filling in a sandwich or pitta bread, with a splash of your favourite sauce. Grab a pack to take to the beach, or even to reheat quickly on a BBQ.
The Frikadellens come in two sizes:
A round, burger, shape
Smaller nugget sized pieces
There are two flavours: chicken & turkey, or pork.
Burgers/Rissoles by a Different Name!
Frikadellens are very similar to burgers, consisting of minced/ground meat and flavourings/herbs – it's just Germany's word for the same thing really!  Frikadellen are simply pan-fried burgers.
That first day I chose the pack of burger shaped Frikadellens, of which there are five in the packet. Although there were pork Frikadellens, I specifically chose the chicken and turkey ones for my first tasting and review. The product description said they contained 80% meat.
I wanted to eat them hot, so I just popped one in the microwave for a minute – that's all it took. Of course, they can be reheated in the oven, or using a grill or frying pan, but they are fine in a microwave.
They can be re-heated in the oven, on the hob, or in the microwave.  I bet they'd work great on a BBQ too!
What Can You Serve to Accompany Frikadellen?
I've tried a variety of options – every one's been tasty.  They go well with ketchup or gravy, here are some ideas:
Serve with mashed potato, or cheesy mash, and baked beans.
Serve Frikadellen with chips and vegetables, with a splash of ketchup.
Serve with chips or mashed potatoes and gravy.
Serve on a bed of rice with a thick tomato-based sauce.
Cold, sliced, in a pitta bread, with a splash of your favourite sauce (brown, mustard, or even sweet chilli)
I bet these are great served in an English muffin, topped with a poached egg, like a famous takeaway serves up their patties!
I found the Frikadellen moist and tasty and not spicy or tangy at all.
They were so tasty, I went back another day and this time bought the Pork Frikadellen.  Again, I reheated them in the microwave and I found these exceptionally moist!
I'd certainly recommend them and eat them again myself.  These, especially the pork flavour, are moist, moist, moist and tasty, tasty, tasty!
Can You Freeze Frikadellen?
In short, yes.  It's easy too – you can just toss the whole packet straight into the freezer.  However, if you're short of freezer space then I'd recommend removing them and wrapping them individually into freezer bags or foil.
To defrost and cook, I cook them from frozen in the microwave.  I pop one Frikadellen into a lidded microwave safe pot (I use one of my lidded soup mugs for this as I already have those) – then microwave on high power for 1 minute, then leave it for a minute; turn the frikadellen over and microwave for a further minute on high power and leave it to one side again for 1-2 minutes.  That's all it takes!
Microwave Meal for One
I use these frikadellen as one of my quick and tasty, easy microwave meals for one.
Take a frozen frikadellen and pop it into a microwave safe dish with a lid.
Take your favourite frozen vegetables and pop them into a lidded pot, cover with boiling water, then give it a stir and strain (just to defrost them a little); pour boiling water over the vegetables again with 1cm of boiling water above the level of the vegetables, put the lid on your pot.
Put the vegetables and the frikadellen bowls in the microwave together and microwave for 1-2 minutes.
Remove both dishes from the microwave and set aside.
Microwave oven chips in blasts of 2 minutes, for about 8 minutes.
Remove the chips and give the vegetables/frikadellen a further microwave blasting on high power for 1-2 minutes and set aside.
Finish off microwaving the chips.
Test/strain the vegetables and place all the items on your plate.
Eat!
Menu Cost:
With the above frikadellen, chips and vegetables, the total cost is under £0.50.
Highly Recommended!