Microwave Mug Breakfast Under £1
|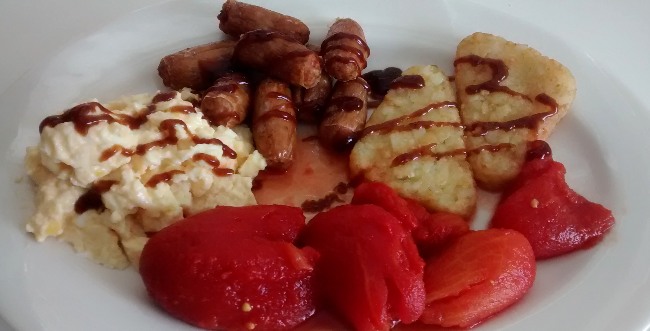 This is another microwave mug breakfast I make quite often – it takes just 3 minutes from start to finish and is a great way to start any day if you want to start off feeling full!
I bought a bag of frozen hash browns, which contains 20 of them – so that's a lot of hash browns I have to eat up in the coming weeks, especially as I am trying to clear the freezer to defrost it.
Pin It for Later: Pin This on Pinterest
Ingredients:
1 large tin of tomatoes (~400 grams)
2 large eggs
1-2 cooked sausages, or 8 cooked cocktail sausages
2 frozen hash browns
Sauce of your choice!
Method:
Drain and empty the tomatoes of their juice, keep the tomato juice as you can freeze tomato juice or use in another dish in the coming days. Put the tomatoes into a microwave safe mug.
You can put the ready cooked sausages in with the tomatoes if you wish, or cook them in their own mug.  Pierce them first, so they don't pop.
Whisk 2 large eggs in a microwave safe mug.
Place the two hash browns in a microwave safe mug, separately, against the sides (or use a flat dish)
Place all the mugs/dishes in the microwave and microwave on full power for 1 minute.
Remove/stir/check each item as appropriate.
Repeat in 30 second blasts until each item is cooked.
Most of these items need a simple stir – making scrambled egg in the microwave is the item you will need to watch/stir with more attention, just keep it moist/stirred rather than allowing it to billow out.
Now simply serve up on your plate – with a splash of your favourite sauce!
Menu Cost: 
At today's prices, the tomatoes cost 29p, eggs 16p, cocktail sausages 32p*, hash browns 10p = 87p, plus about 1p for the splash of sauce.  So a total cost of 88p for a large cooked breakfast in about 3 minutes.
*I used ready cooked cocktail sausages, which I freeze, these cost ~£1.60 for a box of 40, making them 4p each and I used 8 today.  This isn't the cheapest way of buying sausages, but as they're ready cooked I tend to buy a lot of these for convenience.