Zero Waste: Freeze Tomato Juice
|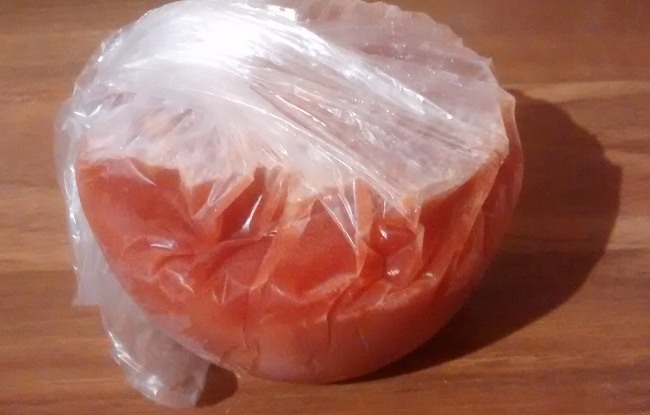 How often do you open a tin of tomatoes and end up tipping most of the liquid away?  This is one thing that you can have zero waste with if you freeze the tomato juice.
A lot of the times I use tinned tomatoes it's as part of a cooked breakfast.  When I use the tomatoes I carefully pick out each tomato from the tin, then cut the top part off (I don't like them), then I put the tomato into the cooking dish and I end up with half a tin of pure tomato juice.
It's a shame to waste it – and it's easily used in other dishes you cook.
How to Freeze Tomato Juice: 
Fit a small freezer bag into a mug, or beaker, or other small pot.
Tip the tomato juice into the bag in the mug.
Pop the mug into the freezer for about an hour – at this point it should be frozen, it's certainly frozen enough for you to remove the freezer bag from the mug and pop the small pack of frozen tomato into a small corner of the freezer.
Using Frozen Tomato Juice:
You can use this tomato juice by adding it into any stew, casserole, or slow cooker food you cook in the coming months.
It's best to defrost it first, which you can do by putting the bag (in a mug) in the fridge overnight, or by defrosting it in the microwave by removing the tomato from the freezer bag and then microwaving in a microwave safe dish or jug for about 2 minutes.
Most of my frozen tomato juice is thrown into the slow cooker when I make chilli con carne, but it can be used in any recipe that asks for passata!