Microwave Raw Onions: Soft or Crispy
|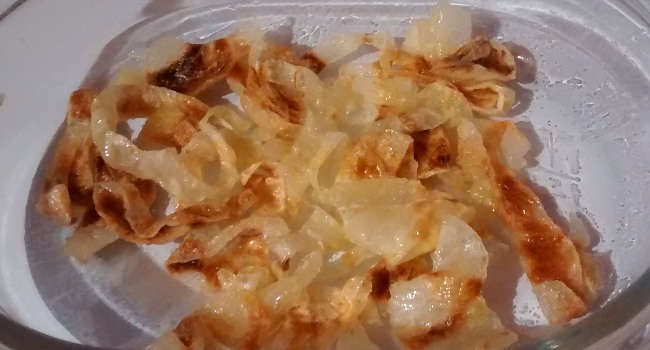 You can microwave raw onions, so they are soft onions or crispy onions – and they take just a few minutes.  You might wish to cook them fully, or just to soften the onions to add to other recipes, such as making a microwave stuffing recipe from scratch.  This is a great way to cook a small quantity of onion without using a hob and pan.
Ingredients:
1 medium onion, chopped, sliced or cut into onion rings
1 tablespoon of oil, or a mixture of oil and butter
Method:
Place the onion, cut into slices, onion rings, or diced, in a microwave safe dish.
Add oil and/or butter and ensure the onion pieces are coated fully.
Cover the dish and microwave on full power (800 watts) for 2 minutes at a time, stirring after each 2 minutes to ensure more even cooking/browning, for up to about 8 minutes, depending on how dark and brown you want the onions to be.  It's not until about 4 minutes have passed that you'll start to notice the onions are cooking.
Notes: 
The oil to coat the onions is essential as it keeps the onions moist.  Stirring the onions is important to prevent it cooking unevenly;  stirring ensures the onions will cook evenly and brown more evenly.
Watch the onions while they cook if you want them to brown evenly – and microwave them in 1 minute blasts so you can stir them more often.
Using Cooked Onions: 
Here are some ways that I use onions that I've cooked in the microwave.
To add to egg fried rice, or to add to microwave chow mein.
When making a microwave stuffing recipe from scratch I'll cook onions in the microwave until they're soft (but not browned).
I'll add crunchy onions into a cheese & potato pie sometimes to make it a little different.
Soften onion to add to a cheese and onion microwave omelette.