How to Microwave Spaghetti
|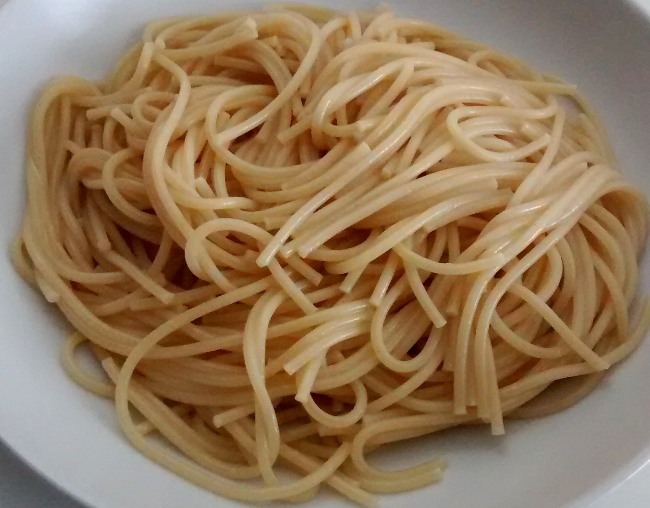 Did you know you can microwave spaghetti?  I only cooked spaghetti once on a stove top, using a saucepan – never again … ever since I've always just used the microwave to cook spaghetti.  It takes just 6-9 minutes, depending on the weight of spaghetti you're trying to cook, how powerful your microwave is and how wide your microwave dish is.
Cooking for one I'd never cook spaghetti in a saucepan, it'd simply take far too long and I'd get bored waiting for it 🙂
Faster Pasta!
I do like to "eat instantly". It simply makes sense to cook spaghetti in the microwave oven instead – which takes less time, uses less energy and the container's easier to wash up! What's not to like?
Using the microwave spaghetti cooks in boiling water, just a smaller quantity of boiling water.
I use a variety of dishes, depending on what's to hand. One dish I use is a dish I retained after a steamed meal pack from a supermarket as it looked nice and long and deep. The dish you choose really needs to be long to accommodate the spaghetti, and deep so the water doesn't boil over.
One portion of spaghetti is 70-100 grams, today I used 100 grams – that's the raw spaghetti weight. Here's how to ….
Microwave Spaghetti: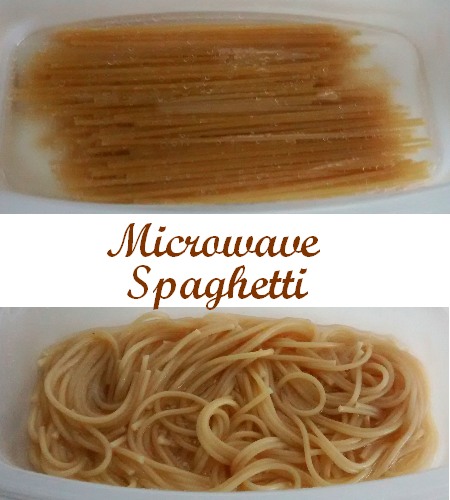 Weigh out your dried spaghetti (by eye if you wish), break it in half so it fits into your dish.
Add a splash of oil to the spaghetti, this helps to prevent it from sticking together during the cooking process, it's optional so long as you remember that – if you've no oil and want to take a chance then go for it.  Add a sprinkle of salt if you wish, I don't bother.  Poke the spaghetti strands around a little so the oil coats as much of the spaghetti as possible.
Add boiling water, cover the spaghetti then add another ½cm or so.
Place the dish in the microwave and microwave on High power for 3 minutes.
Remove the dish from the microwave and just give it a jiggle, or poke with a fork to ensure the strands are still separated.  Check the water level and add a splash more if you think it's a little low.  If it needs more cooking time, then place the dish back in the microwave and microwave for a further 3 minutes.
Remove the dish and make sure the strands are still separate and the water level's OK.
To test when the spaghetti is cooked just taste a little – you'll know if it feels right to you! If you're cooking two portions it'll take about 3 minutes longer than this, but with a tiny portion it cooks really quickly – when I cook a 75 gram portion of spaghetti it takes just 6 minutes.
Strain off the water, give the spaghetti a toss in the strainer, serve.
You can even re-use your cooking dish to eat from if you're trying to reduce the washing up!  Just add your spaghetti sauce, or whatever you're serving it with.  I like to make up a quick tomato-based spaghetti sauce, or make spaghetti bolognese – or even serve chilli with spaghetti.
Menu Cost: 
Spaghetti is a very filling and very cheap dish to make.  I buy 500 gram packs of spaghetti at the budget supermarkets for 20p.  Using 100 grams of spaghetti as a portion, which is VERY generous, that's cost just 4p for the bowl of spaghetti!
More Questions Answered!