Mexicana Cauliflower Cheese, 2 Ingredients
|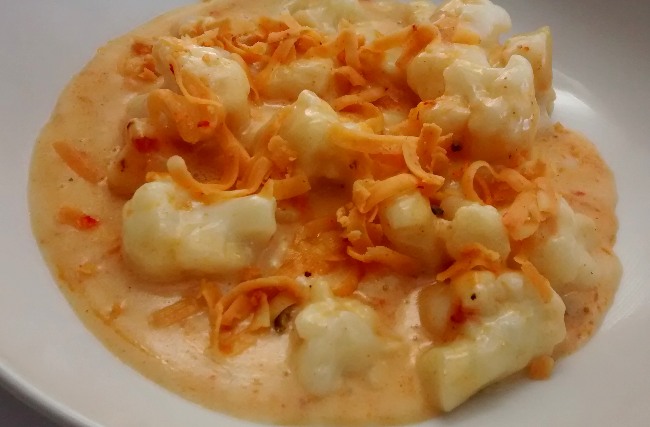 There's a glut of cauliflowers they say – and we're being urged to eat cauliflower this week. Well, when you're cooking for one you might just stare at a whole cauliflower in the shops and think "I can't face eating a whole cauliflower this week" – especially as they do seem to be quite pricey these days! I will typically use frozen cauliflower simply because it's more convenient as I can just use the amount I want to!
But, in the spirit of eating more cauliflower this week – and wishing to use up the final pieces of Mexicana cheese, which is a hot chilli cheese, I thought I'd make a quick Mexicana Cauliflower Cheese in the microwave – and it uses just TWO ingredients.  This dish was created for those people cooking for one who like a flavour hit!
Pin It for Later:  Mexicana Cauliflower Cheese
I tend to eat cauliflower cheese without the additional step of browning it under the grill because that's just one wait too many! I love a crusty cheese topping, but most of the time won't wait for that.
2 Ingredients: As Mexicana cheese is quite a gooey cheese I thought I could get away with not making a white sauce at all! Because of the way the cheese feels and behaves when it's melted this was to be a simple 2 ingredient cauliflower cheese without using white sauce.  If you do want to make white sauce and add the cheese to it, then check out this: microwave white sauce recipe.
Ingredients:
The quantities really come down to you seeing how much, by eye, you want to make
250 grams frozen cauliflower florets, do it by eye
30-50 grams Mexicana cheese, do it by eye
Method:
Defrost and cook the frozen cauliflower florets by placing them in a covered dish in the microwave with a little water. I use microwave noodle bowls for this, which has a handy vent, but you can use any microwave safe bowl and cover with cling film, then poke a small vent hole in. Microwave the florets in bursts of 3-5 minutes at a time, checking/turning them as you go until they're ready and cooked (try a little bit).
Grate the Mexicana cheese.
Once the cauliflower is cooked, strain the cauliflower florets and add the grated Mexicana cheese. Mix the two together.
Microwave the cauliflower cheese mix for 1-2 minutes.
Serve and sprinkle a few grams of Mexicana cheese on top.
I just ate this as it is, but you could serve it with a nice chunk of baguette or bread – great for scooping up the last pieces of the melted cheese!
Alternatives:
If you are using fresh cauliflower then you will need to slice off individual florets, or you might choose to simply cut the cauliflower into quarters or halves.  You can use the microwave to cook the cauliflower, or a vegetable steamer, or even cook the cauliflower in a saucepan of boiling water.  Cauliflower is cooked once you can insert a knife into the centre and it's soft.  You can always nibble a bit to check 🙂
Food Cheats: 
The food cheats used here are:
Using frozen cauliflower

Not making a white sauce for the cheese sauce.
Mexicana cheese is a hot chilli cheese that is a very creamy cheese – it melts down into a nice thick sauce on its own without needing to be added to a separate white sauce at all.  You can try this method of making a quick and easy cheese sauce by using any creamy cheese.
Packed Lunches for the Microwave at Work: 
If you've got a handy microwave safe container, you can just grab some frozen cauliflower and grated cheese from the freezer and fridge in the morning – then just microwave the two together at work later.  Just 3 minutes or so should be enough.  Frozen cauliflower contains water, so there's no real need to add more water, or to them drain off the water.
cauliflowercheese mexicanacheese