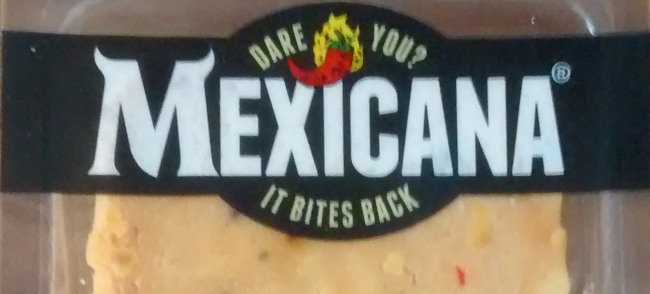 I love cheese so grabbed a pack of Mexicana Cheese to try out – and I'm glad I did. I've cut a little bit off as a taster and it's really nice and hot.
There are a ton of ways I will be using this Mexicana cheese, including:
Mexicana cheese sandwiches – maybe with some crunchy onion, or mayo.
As a Tex Mex style jacket potato topping.
Sprinkle a little Mexicana cheese over chilli con carne.
Add this chilli cheese to mashed potato on top of cottage pies
Mexicana cheesy chips.
Mexicana cheese & potato pie.
Mexicana cheese on toast.
This would be great as cheese & pineapple on sticks for a party.
Pizza topping – top off your Tex Mex pizza with this Mexicana cheese to add a punch.
Chilli Cheese Straws – no brainer!
Make a chilli cheese dip
But with that list … I'll need to buy more!
It's just hot chilli cheese so can be used in all the usual places where cheese can be used – in sandwiches, sauces and more.
I think anything chilli is probably my favourite flavour at the moment – so looking forward to using this and I suspect I'll be buying a lot more of it in the future!
What is Mexicana Cheese Like?
Well, the look of it could put some people off as it contains whole pieces of red and green pepper, so the green pepper might just not be visually pleasant.
The ingredients include Cheddar Cheese, peppers, jalapeno peppers, mexican style seasoning (paprika, chilli, cumin, black pepper, garlic powder, dried peppers, tomato, garlic, tomato powder, onion powder, parsley). It's suitable for vegetarians.
Those pieces are quite large and visible – that will either appeal, or not! It's all in the taste at the end of the day though isn't it 🙂
Where Can you Buy Mexicana Cheese?
I picked it up in one of the three main supermarkets – it's currently for sale in Asda, Sainsburys and Tesco.  I can't recall which of those three shops I bought it at though as I've been in all three recently!
Using Mexicana Cheese: 
One thing to note is that once the pack is opened it is best eaten within 3 days – normally I'd avoid products with such a limiting timespan – but you can freeze cheese, so it's possible to freeze this if you can't use it all at once.
You can grate it to make it go further – Mexicana cheese is hot, so you don't need much to make a taste difference to your recipes: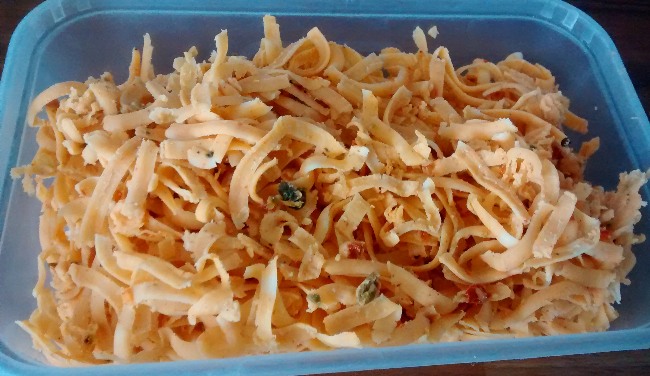 I grate cheese into a plastic takeaway box and keep it in the fridge.  I love those boxes, so stackable and you can see what's inside!
Nutritional Information: 
Having a quick scan of the packet, not for me as I've decided I'll be eating this no matter what the label says …. the nutritional value per 100 grams is: 396 calories, 31.3 grams total fat, 4.7 grams carbohydrates, 23.7 grams protein, 2 grams of salt.
The pack I have is 200 grams, so the calories in the whole pack will be double what it says.  Oops… I need to go a bit easy then.