Slow Cooker Chilli Con Carne, No Prep Method
|
A slow cooker's a great way to make food easily – with the minimum of effort – and it still tastes as gorgeous as if you slaved over the stove for hours.  This slow cooker chilli con carne recipe is easy to make there is no prep at all required.
 500 grams of minced beef (US: ground beef)
1 tin of tomatoes
1 tin of red kidney beans
2 red onions, chopped
2 teaspoons of chilli powder
1 big splash of chilli sauce
1 pepper (red, green, yellow or orange), cut into pieces
Optional: Carrots, white onions, baked beans/other beans, small pieces of potato.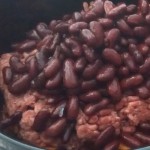 Method:
Place all the items in the slow cooker
Turn the slow cooker on to auto, or high for one hour, then turn down to low.   Or, you can simply start it and leave it on low.
Your chilli will be cooked in 6-8 hours.
There are other ways to get the chilli effect and chilli flavour, you could put fresh chillies in, or some chilli flakes – or even use red kidney beans in chilli sauce.
There is no need to mix the ingredients together before you put them into the slow cooker – and the order you add them in doesn't matter.
Serve With:
I served my chilli with basmati rice and some tortilla chips.  If you're on a diet then you can serve chilli on a bed of shredded lettuce leaves and grated carrot to lessen those calories and get you that 5-a-day!
Freeze Chilli con Carne: You can portion up the chilli and freeze it.  To defrost leave it in the fridge overnight, then reheat on the hob or use the microwave to defrost/reheat it.
Frugal Cooking: You can use less meat and more beans, or even some extra veg – I like to grate up carrots and add them to make this chilli con carne go further, carrots also brighten the look of the dish!