Chocolate & Mandarin Trifle
|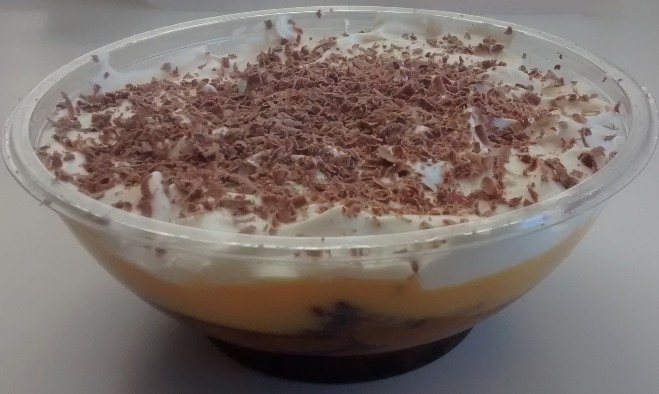 This chocolate and mandarin trifle can be made from simple cupboard ingredients, meaning you can have the ingredients sitting in the cupboard for when you decide you want to make a trifle!  It doesn't take long to put together, but there is the additional time needed for the jelly to set, so this needs to be made at least 1-2 hours before you wish to serve it.  Once made it'll keep, covered, in the fridge for 2-3 days.
Just last week I'd bought a ready made trifle from Aldi – it was their cheap trifle.  I'd gone in to buy the Aldi chocolate trifle, which has a layer of chocolate mousse, but there were none on the shelves, so I'd just grabbed their £1.39 Strawberry Trifle and when I'd finished it, I kept the empty dish to re-use to make my own large trifles.
When you make your own trifle you can choose the ingredients, or work with what you've got.  You can make layers thicker, or thinner, just how you like it.  This is almost making a trifle from scratch – but using food cheats for the time-consuming bits (making a proper custard for example!).
This recipe makes a "serves 4" trifle, but you can easily halve the recipe to just make a "piggy portion" for one, or a "serves two" trifle.
Chocolate & Mandarin Trifle Ingredients: 
½ block of orange jelly
½ tin of mandarins
Cake: 1 egg, 60 grams sugar, 60 grams butter, 50 grams flour, 10 grams cocoa powder
½ packet of instant custard
½ packet of Dream Topping (US: Cool Whip)
80ml whole milk
1-2 squares chocolate
Method: 
Make a small cake.  You can buy a small cake and use slices, but I made a quick microwave chocolate cake by creaming together the sugar and butter, then beating in the egg before adding and mixing the flour and cocoa powder.  Place the cake ingredients in a microwave safe dish and microwave for 2 minutes.  Leave to cool, then cut into chunks, or thin slices.  I cut half my cake into chunks and a quarter into thin slices …. and I ate the remaining quarter 🙂
Open the tin of mandarins and separate the mandarins from the juice.  Cut up half a block of jelly into the mandarin juice and microwave on high power for 1 minute to heat up the mandarin juice.  Stir this until the jelly has melted.  Add cold water to make the jelly up to ½ pint
Place the mandarins, some of your chocolate cake and the jelly in the bottom of your trifle mix and leave to set.  How much you put in is up to you, I wanted the jelly to be stuffed with filling:

Mix up half a packet of instant custard with boiling water – leave to cool.
Mix up 20 grams (half a packet) of Birds Dream Topping with 80 grams of milk (I find weighing milk the easiest way to get the proportions right) and beat until it's light and fluffy.  Tip: it's quicker/easier if you do this in two batches of 10g/40g else you're beating for a lot longer than you expected!
Place a thin layer of chocolate cake over the set jelly.  Spread your cold custard on top. Top with the whipped Dream Topping.

Grate chocolate over the top.
Tip: you can add some of your spare half a can of mandarins to the top if you wish; I intended to do that today, but then I forgot and just ate the rest of the mandarins 🙂
Keep this, covered, in the fridge.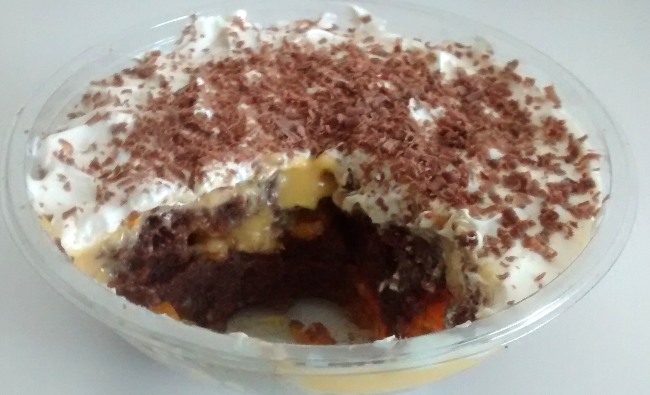 Chocolate & Mandarin Trifle Cost: 
This has probably cost me about £1 to make this trifle!  It tasted better than the £1.39 trifle I'd bought from Aldi and was more filling as well as tastier.  I'll still grab a cheap trifle at the shops if I choose to, but it's nice to know I can just make my own, on a whim.