Easy No Yeast Cheese Bread – 1 Hour Recipe
|
This easy no yeast cheese bread can be made in under an hour. There's no fancy equipment needed at all.
You can make it in a loaf tin, or simply bake on a baking tray. There's no yeast, no proving, no kneading at all. This is a tasty and quick, easy cheese bread that's a great savoury loaf that can be cooked, from scratch, and served in under an hour.
All you need is a bowl and an oven!
Ingredients:
250 grams plain flour (all purpose flour). (8oz/2 cups)
2 teaspoons baking powder
1 tablespoon sugar
½ teaspoon salt
60 grams butter or margarine (2oz)
85 grams cheese, grated. (3oz/1 cup).
1-2 tablespoons of oregano (optional, or use any mixed herbs)
½ small onion, grated
¾ cup milk
1 medium egg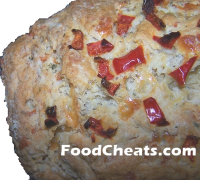 Method:
Pre-heat your oven to 175°C/350°F/Gas Mark 4.
Grease or line a 1lb loaf tin, or a baking tray if you've no tin
Combine the flour, baking powder, sugar and salt in a bowl.
Cut up the butter and add it to the dry ingredients, then cut this into the dry ingredients until the mix resembles breadcrumbs
Add the cheese, onion and herbs to the mix and mix it up.
Whisk the egg and milk together until blended and pour this into the cheese bread mix. Mix everything together well.
Pour the mix into your loaf tin, or if you're using a baking tray then flour your hands and shape it into a round and place on the baking tray.
You can top your cheese bread with other ingredients or garnishes if you want, e.g. I top mine with fresh cut chillies, or with slides of tomato.
Bake for 40-45 minutes in the middle of your oven.
To test if the cheese bread is cooked, insert a knife into the middle and it should come out clean.
Take the loaf out of the oven and allow to cool for 10-15 minutes before removing it from the loaf tin. Cool on a wire rack so any heat/steam can escape, to prevent it becoming soggy.
Storage:
If you store this no yeast cheese bread in an airtight tin it should be fine for a couple of days.
Freeze Cheese Bread:
You can freeze this once cold if you want, either whole or sliced.
This bread is perfect for picnics, lunchboxes or as an accompaniment to soups or chilli con carne.
Recipe © Foodcheats.com 2007-2015