Fish Finger & Hand Crushed Pea Baked Potato Topping
|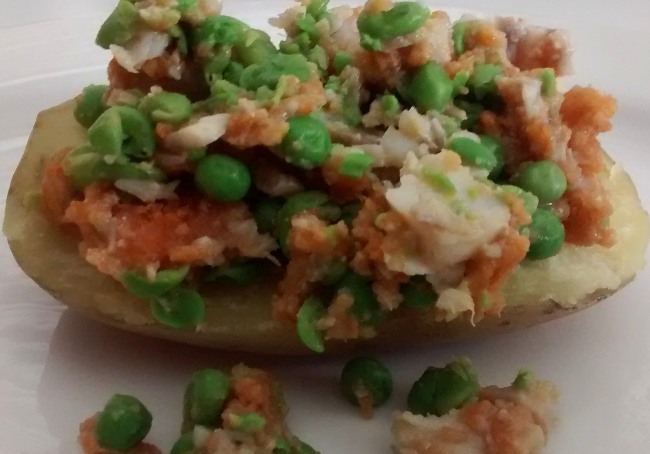 With just two fish fingers left in the pack, you can use them to create a great fish finger and hand crushed pea baked potato topping, all cooked in the microwave in under 15 minutes!  If you scroll down you can discover how this can be a mug meal rather than a meal on a plate.
What you'll need:
Half a baked potato, or a whole one!  Mine weighed 310 grams raw and I ate half.
2 fish fingers, any will do – budget supermarket or high end organic sustainable
30 grams frozen peas, or tinned if that's what you've got
1 teaspoon balsamic vinegar (or your regular chip vinegar)
Method:
Put the frozen peas into a mug and fill the mug with boiling water – the peas will defrost while your potato cooks.
Cook your baked potato – I use the microwave to cook potatoes and as I used a 310 gram potato it took just 12 minutes.  Cut the potato in half and set one half aside for another meal later if you wish – I popped mine into an airtight plastic box once it had cooled, then into the fridge to be used in the next 2-3 days.  I use plastic takeaway boxes to store things neatly and safely in the fridge.
Microwave two fish fingers – you can cook these in a mug as you don't need to keep them flat and intact.  Cooking just two fish fingers will take one minute x2.  Total time 2 minutes.
Drain the peas and microwave them on high for 1-2 minutes.  Crush the peas using a fork.
Combine the fish fingers and peas and break the fish fingers up.
Add a splash of balsamic vinegar, or your regular chip vinegar to the fish fingers and peas – finally, spoon your topping onto your half baked potato and eat!
What I did was to cook the fish fingers and the peas in the same mug – although this did limit how crushed the peas could be as I still wanted the fish fingers a bit chunky – but I could've removed the fish fingers, crushed the peas by hand with a fork, then put the fish fingers back in and given those a little cut and mix.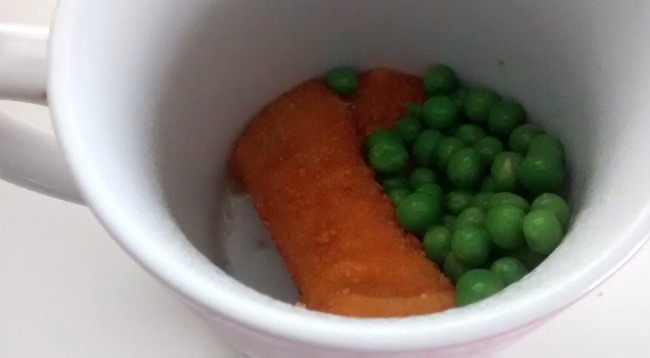 This is a fast and filling meal for one, if it doesn't look like a lot of food to you then use the whole potato and even add in another fish finger and a few more peas!
50p Dinner: 
Prices vary, depending where you buy things from.  Supermarket budget fish fingers can be as cheap as 6p.  I've used two Lidl fish fingers 17p, 30 grams of frozen peas 3p, half a baking potato 8p.
Total menu cost is under 30p!
Mug Meals: 
This whole meal can be cooked in a mug.  You could microwave the potato in a mug by cutting it in half before you cook it, covering the mug with cling film to stop it losing its moisture (with a couple of tiny vent holes poked into the cling film, then take it out to rest after 12 minutes and use the same mug to cook the fish fingers and peas.  Tip out the fish fingers and peas to crush them on a saucer, put the potato back into the mug and put your fish finger and peas mix on top!
Work Meals: 
You can pre-cook your potato and take the potato to work with you, with the fish fingers and peas – simply microwave everything together for 3 minutes and serve.
LBTLLunch