Microwave Breakfast in Under 5 Minutes, Just 36p
|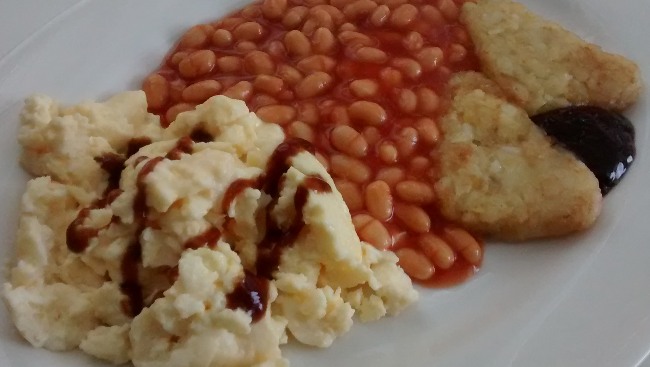 I microwave about 98% of my food and meals – so a microwave breakfast is no different.  What's not to like?  Using mug cooking methods and cooking food in mugs you can have a hot cooked breakfast in under 5 minutes, with very little washing up!  I've recently bought a bag of frozen hash browns and am trying to empty the freezer now to defrost it, but that's been slow going – so today I had to eat some of the hash browns to get through them.
Serve Up a Breakfast for Just 36p
This breakfast is frugal too, costing just 10p for the hash browns, 16p for scrambled eggs and 10p for the baked beans.  There are two large scrambled eggs here and 1/3rd of a tin of baked beans (Sainsbury's reduced salt & sugar).
How to Cook this Microwave Hash Brown Breakfast:
I used just two mugs, so this is a Mug Breakfast if you like to use buzzwords!   The microwave used is 800 watts, so adjust your power accordingly.
Place two frozen hash browns in a microwave-safe mug, standing they upright against the sides of the mug..  Cover and cook on high for 2 minutes. They can be cooked in a mug, but they won't come out flat
Meanwhile, crack two eggs into another mug and whisk with a fork.
Remove the hash browns from the microwave and turn them over.  Put the hash browns AND the scrambled egg in the microwave for 1½ minutes.
Remove the hash browns and scrambled egg from the microwave, remove the hash browns from the mug and tip in the baked beans (so you are re-using this almost clean mug).
Stir/chop the scrambled eggs with a fork.  Return the two mugs (eggs and beans) to the microwave and microwave for 1 minute – check if the beans are hot enough and keep an eye on the eggs.
At this point, just check everything's cooked/hot – and serve!
I add a small knob of butter to the scrambled egg just before serving.  A dot of brown sauce on top is optional!
If you want crispy hash browns, then you can cook them the "proper way", but that takes longer and produces more washing up!
This is a great quick holiday cottage breakfast if you want to fill up and head out exploring soonest!  I have lived by the sea for nearly 20 years, so know how important it is for residents and holidaymakers to get up and get out with the least hassle.
Carers' Breakfasts: 
If you're poorly yourself, or if you're acting as a carer to somebody else – being able to cook a microwave breakfast with the minimum of time/fuss and washing up could be the difference between a filling breakfast and a slice of toast!  I know which I'd prefer.
Menu Cost: 
The prices are 2017 prices and reflect: Iceland Frozen Hash Browns, 20 in a bag for £1; Aldi large eggs, 79p for a pack of 10; Sainsburys Reduced Salt & Sugar Baked Beans £1.15 for a pack of four 400gram tins.