Microwave Rhubarb Sponge Pudding
|
Rhubarb is a great fruit and whether it's in season, or even canned rhubarb, it's great making a microwave rhubarb sponge pudding as an impromptu dessert. Tinned rhubarb enables you to eat rhubarb when it's out of season, it's good to have a tin in the cupboard!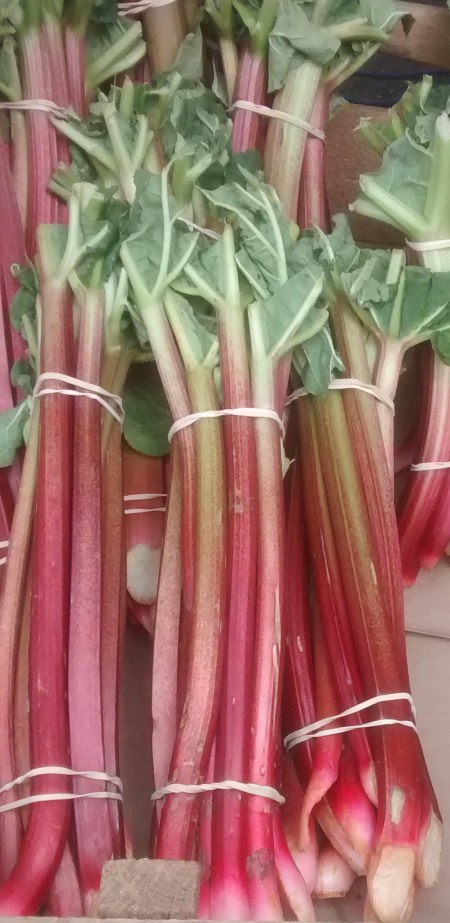 What could beat that? Rhubarb, hot sponge pudding – and either custard or cream poured generously over it!
This is a fast rhubarb recipe microwave dessert I've been making for nearly 20 years now and it never fails to delight – and now rhubarb is in season I'll be making another soon and will take a photo.
This makes a great dessert that serves one person with a healthy appetite, or two people as a dessert.  With lashings of custard you can serve four with a taster course, or simply double the quantities and add 2 minutes to the microwave cooking time.
Ingredients:
2 stalks of rhubarb, chopped up finely
120g sugar. I tend to use regular, granulated, sugar as that's what I've got in the house. Use the sugar you've got to hand!
120g Self Raising flour – if you're American, that's All Purpose Flour plus a teaspoon of baking powder.
120g butter, plus a little extra for greasing the pot
2 medium eggs
3 tablespoons of jam, preserve, or golden syrup – for extra sweetness and moisture and to make the base a little stickier.
Method:
Place the rhubarb and jam/golden syrup in a microwave bowl, cover and microwave for 1½ minutes, until the rhubarb has softened just a little bit.
Beat the sugar, flour, butter and eggs together until they're combined. If you've a food processor you can use that too.
Grease a small microwave proof bowl, about 10cm wide, and pour the rhubarb mix into the bottom. I tend to use my Pyrex measuring jug to make microwave sponge puddings as that's the right size/shape for a lot of food I microwave and it's got a handy handle when it comes to turning it out onto the plate with a good grip!
Pour the sponge mixture over the top of the rhubarb.
Cover with cling film, then pierce the film with a knife to create an escape route for steam. I have a microwave splatter guard so will often use just this, or sometimes I'll place a saucer over the top of my jug (with the pouring spout handily providing me with the steam vent!).
Microwave on high for 4-6 minutes, or until a knife comes out clean from the middle of the microwave sponge pudding.
Set it aside for a minute, then turn it out (upside down) onto a serving plate.
Serve hot, as it is, or with fresh cream or custard.
This also works if you miss out the first step of pre-heating the rhubarb, so long as you've cut it up fine enough.  The only reason for this step is to ensure the rhubarb is cooked through and soft!
More ideas for microwave sponge puddings:
You can add any fruit into the recipe above – and even use half a can of canned rhubarb (missing out the first step as the rhubarb will already be soft).
Use your favourite jam or preserve with the above batter recipe.  Simply add 4-5 tablespoons of your favourite jam.
Rhubarb is a great fruit, served on its own, or with custard, or by making it into a sponge pudding!

Image © Foodcheats