Microwave Welsh Rarebit Recipe
|
You can make Welsh rarebit in a microwave, but it's much better if you then take that extra stage and place the Welsh rarebit under the grill so it browns!  Sometimes I'll just eat Welsh rarebit without the grilling stage, but today I fancied browning it off!
This recipe is for a microwave Welsh rarebit recipe that serves one person and is made in a small mug or cup.
There are many variations of Welsh rarebit, which one you choose becomes part about taste and part about availability of ingredients.  Many recipes use a splash of ale or beer – as I don't buy beer or ale it's never going to be in my house to be included in the recipe!  This recipe uses ingredients I usually have around, so it's become my quick and easy Welsh rarebit recipe that I use as tasty toast toppers.
Welsh rarebit, at its simplest, is a thick white sauce, a bechamel sauce, that has cheese added to it and a few other ingredients to give it a little bit of "tang".  This recipe produces a nice, moist, spreadable and tangy cheese sauce for grilling!
Here's the recipe I used to make Welsh rarebit in the microwave, which was just enough topping for one person, covering two bread roll halves.  It's easy enough to make up more of the mix, just by doubling or trebling the recipe and cooking it for a little longer.
Ingredients: 
½ teaspoon butter or margarine
½ teaspoon plain flour (all purpose flour)
10-15ml milk
50 grams cheddar cheese, grated
3-4 drips of Worcestershire sauce
¼ teaspoon cayenne pepper, or chilli powder, or even 2-3 drips of tabasco sauce
¼ teaspoon garlic granules (or any other form of garlic powder you've got)

Method:
Using a microwave safe small pot or mug or cup, melt the butter, which will take about 30 seconds.
Add the flour to the melted butter and whisk it with a fork until it's smooth.
Add 10ml of the milk and mix it into the butter/flour mix until it's smooth – you can do this with a fork.
Microwave the mix on high power for 30 seconds, whisk the sauce with a fork to ensure it's still smooth. Add a splash more milk if it needs it.
Microwave the mix on high power for 30 seconds, whisk the sauce with a fork and see how it's coming together.  A Welsh rarebit sauce should be quite thick and not at all runny.
Add the cheese into the sauce and mix it well in.
Add the Worcestershire sauce, cayenne and garlic powders and mix everything together.
Microwave the mix for 15 seconds and give it another stir.
At this point check the sauce is thick enough and that the cheese has melted, have a little taste to see if it needs to be adjusted to your personal preferences.
Spoon the Welsh rarebit sauce over your toast or bread, as close to the edges as you can.  Place under a hot grill for 5-10 minutes until the top is bubbling and browning – it's ready when it looks nice to you!

Using Welsh Rarebit Sauce
At this point you now have your Welsh rarebit sauce – and there are a number of ways you can use it.  I chose, this time, to spread the Welsh rarebit to the edges of a halved bread roll, then put it under the grill for 5 minutes.  This time I didn't toast the bread roll first, but sometimes I do.
If you've no bread rolls, then you can spread it on regular toast – and then brown the mix under the grill, or just eat it as it is.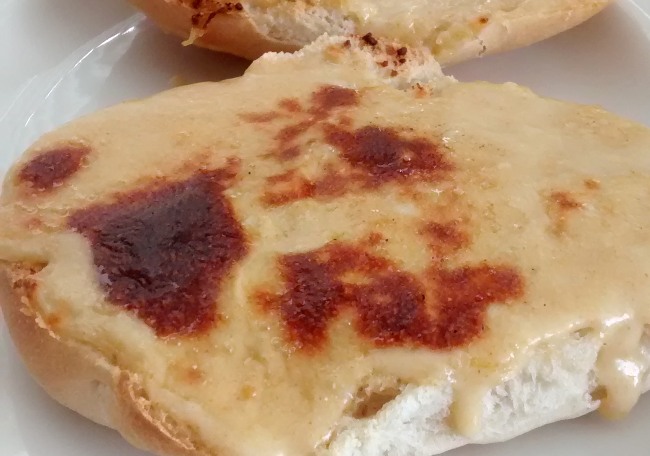 Storing Welsh Rarebit
Once made, you can store it in a lidded pot in the fridge if you wish, for 2-3 days.  To use it, just treat it like a toast topper and spread the mix over toasted bread before popping under the grill to reheat and brown.
You can freeze the sauce if you've made too much, but it's so quick to make I've never done this!
50p Dinner
This is a great snack meal and costs about 30-35p in ingredients.