No Bake Easy Cheesecake Base Recipe
|
Cheesecake has to be one of the best desserts ever – they look so great. And yet they can be so easy for anybody to make. Some cheesecake recipes you have to bake, which is a pain in the butt if you're a bit excited and want to eat it soonest! A no bake recipe is great if you don't have an oven, or your oven is unpredictable, or you're not actually that good with it yet. I also find that heating up an oven just for one thing is a terrible waste, so one of the objectives of my foodcheat recipes is always to minimise waste, whether that be time, cost or energy (human or electrical).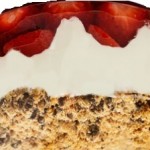 So here's a great no bake easy cheesecake base recipe – which you can top in hundreds of different ways. This should make a cheesecake for 2-3 servings, but the amounts can be scaled up to any size you want:
125grams digestive biscuits (Graham Crackers in the US)
50grams unsalted butter
25grams sugar (brown is best)
Your choice of topping, which could be fresh or tinned
Method
Crush the digestive biscuits, a mess-free way of doing this is by putting them into a plastic bag first, or wrap them in a couple of sheets of paper towels – then use anything heavy, or a rolling pin, to crush them.
Mix the crushed digestive biscuits with the sugar.
Melt the butter, you can do this in a microwave oven by chopping it up and then microwaving it for 15-20 seconds at a time and stirring it.
Add the melted butter to the biscuit/sugar mix.
Spread this mix out into the dish you're making your cheesecakes in. Just remember you will be having a good/generous topping on top, so don't make it too thick. Alternatively, you can use individual pots, or even tumblers/glasses if you want to make individual cheesecakes.
Press the mixture down, the back of a spoon usually works well.
Place in the fridge, covered, to await the topping of your choice to be spread onto it.
I'll be adding some quick and easy cheesecake toppings soon!
Image P/393496