Tex Mex Jacket Potato With Mexicana Cheese
|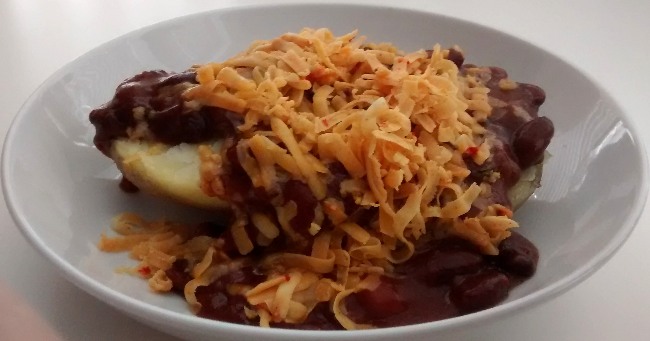 I call this a Tex Mex jacket potato with Mexicana Cheese recipe as it's got two toppings on it.  It's a simple jacket potato, which I cooked in the microwave and topped with a portion of chilli con carne I'd made in the slow cooker and some Mexicana cheese which has chillies in it – but there are some fast food cheats you can use if that sounds like too much hard work!
I'd bought the Mexicana cheese as a Christmas treat, but hadn't got round to using it – so have had to now open the pack and use it up in a variety of different dishes. There's so much I could've made but the pack was just 200 grams in total, and I did want to try it in a few recipes and not just make sandwiches!
When you cook a jacket potato in the microwave it's edible, you just don't get the crispy skin – for me, I never used to eat the skins of potatoes, I used to scrape out the insides and throw the skin away, so I am never bothered by having a crispy skin or not.  I do, however, now enjoy eating the crispy skins, but won't put an oven on for nearly 2 hours just for one potato – one workaround is to use the microwave to cook the potato, then put it into my toaster oven for 20-30 minutes to crisp the skin up.
Ingredients: 
One baking potato, weighing ~300-350 grams. This recipe uses HALF a baked potato.
30 grams of Mexicana Cheese, grated – for one half of a potato
A portion of chilli con carne, about 200 grams.
Method: 
Cook the baked potato by your usual, or preferred, method.  Cut it in half as you're only going to use one half – the other can be wrapped in foil and frozen, or kept in an airtight container in the fridge to reheat in the microwave for 3 minutes in the coming days either in a repeat dish, or use it as mashed potato!
Heat up your chilli con carne, I use a microwave and cook it for 3 minutes then stir/test for heat – top the jacket potato with the hot chilli con carne – I portion up home made chilli con carne into jacket potato portions, but see the cheats section below for alternatives
Add grated Mexicana cheese to the top.
Eat!
Food Cheats: 
Here are a number of ways you can cheat to pull this tasty meal together in a hurry:
Microwave the jacket potato and just accept the skin isn't crispy, saving time as this takes just 10-15 minutes in the microwave.
Use tinned chilli con carn, instead of making your own.  Just half a tin of chilli con carne is enough – once opened you can keep the remaining half a tin in the fridge in an airtight pot, or freeze it.  I make up batches of chilli con carne in the slow cooker and freeze some in "jacket potato portion" sizes.
Mexicana cheese is lovely, but you can make your own by using regular cheddar cheese and grating a fresh/raw chilli into it!  This works out to be cheaper than buying Mexicana cheese as a branded item and you can freeze fresh chillies when they're on offer.
When it comes to the 10-a-day this doesn't count as many, with just the beans in the chilli it seems, but there are hidden ingredients in there of tomatoes and onions; the Mexicana cheese contains some chillies.  But it won't add much to that 10-a-day – if you wish to achieve that target, then serve this with a cheeky little green salad and some fresh lettuce, grated carrot, sliced peppers, a little sweetcorn … for me, I'm happy with just the potato/chilli/cheese in a bowl and BIG spoon!
50p Dinner:
This counts as a 50p Dinner as the baked potato cost 17p and this is half a potato, so 9p; the chilli was about 20p to make my own (30p for half a can if you use the cheats); and the amount of cheese I used was quite small so cost little – grating cheese makes it look like a lot more. I can't remember without looking up the price to be honest…. but if the price of Mexicana cheese seems pricey, then regular cheddar and 10p for a fresh chilli would do a great job instead.
*usemexicanacheese