Carlos Stonebaked Margherita Pizza
|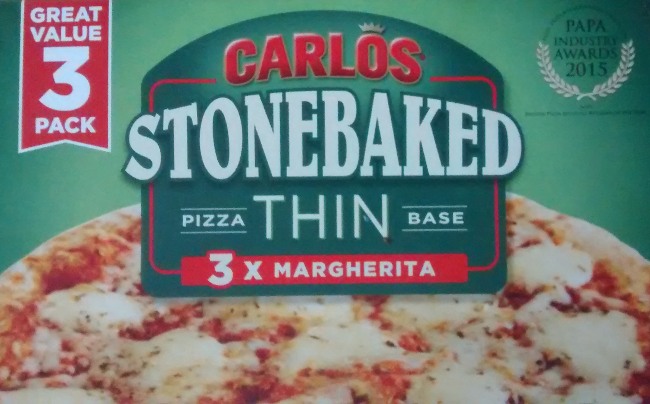 I've sometimes got cheap bought pizza bases in the freezer, simply because they're really handy for using up leftovers. There are many times when I buy something and it needs to be used up soonest, with the least effort possible – and pizza is a great way of achieving this.
I was browsing through Aldi the other day – it's a fairly new shop to me as it only opened locally late last year and so I'm still discovering their food ranges – and I spotted a 3-pack of Carlos Stonebaked Margherita Pizzas, in a 3 pack, for just £2.49. That's 83p for a pizza, that's frozen, that I can chuck in the freezer and use on a whim! Well, they just had to be bought.
The box tells me that they were a Papa Industry Awards winner in 2015 – although I take all awards with a pinch of salt as they are mostly meaningless.  Food is personal – you either like it or you don't; just because somebody else thinks it's a winner might not relate to how you'd score any product!
Cook From Frozen, 12 Minutes
I love it when they say that: cook from frozen is always good to see – and a low number of minutes is the winning combo!  Of course, there'll be that small print somewhere that says you use a pre-heated oven, although I don't bother with that when using the mini oven / toaster oven as it's so small, at worst it means I just have to add 4-5 minutes to any cooking time, and, in the main, it does tend to cook quicker than my cooking instructions say.
I've no idea whether I'll eat all three quickly, or if one will linger in the freezer – but at that price it was worth a go.
I had to remove the pizzas from the box because they were taking up half of an entire freezer drawer. Each pizza is individually wrapped inside the box – always nice to know! Whoever designs a lot of products clearly doesn't have to ponder these minutae of life as they rarely seem to tell you.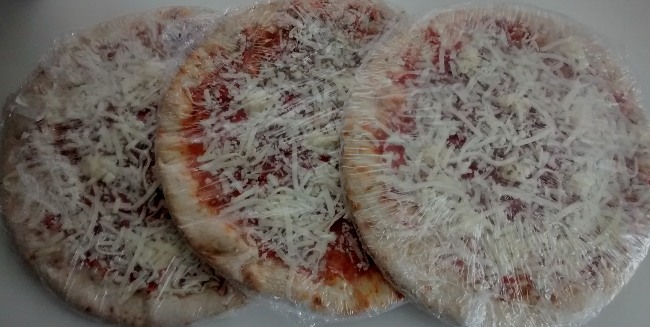 Looking at the information on the back of the box it says they've got a tomato base, mozzarella cheese and processed cheese.  Half a pizza is 364 calories.  The box says the contents are 3×300 grams, but the nutrition panel says that half a pizza is 135 grams.  So who stole the rest of it?  There's 30 grams missing somewhere, which could be the cellophane wrapping.  Obviously then it's lower calorie than expected 🙂
So this 3 pack of frozen pizza is now in the freezer and will be eaten in the next couple of weeks! I've got quite a few freezer food items which were frozen by me to use as pizza toppings, so I'll not go short of having items to make my own pizza by loading more toppings onto the Margherita base. I'll no doubt use up some of the red onions I froze around Christmas time and the frozen whole chillies that have been overlooked in the freezer for over 6 months and the frozen chorizo I bought for Christmas, not realising just how hard it is to eat everything you buy 🙂
It's handy to have freezer food available that can be used in its own right, or used as the foundation for something that requires a little more effort or ingredients.
I don't expect them to be great pizzas, or the best answer, but they are worth trying in case they turn out better than I expect!  Every product has its place … and I'm no food snob 🙂
As a rule one 10″ pizza feeds me for two meals, but sometimes the second half calls me back to the kitchen within a couple of hours 🙂