Is it Safe to Use Pyrex in a Slow Cooker?
|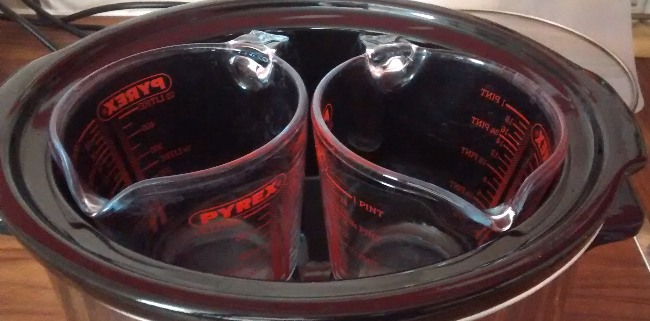 While many people cook food in a slow cooker, there are a number of reasons why it's sometimes useful to cook smaller portions of food – most easily done by putting a dish or jug in a slow cooker.  I use a Pyrex jug for this purpose quite often.
My 3.5 litre slow cooker is too small to hold two Pyrex jugs side by side – otherwise I would be able to cook two meals at the same time, or cook a main meal and a dessert.  It's very close to fitting – I need to keep an eye out for slightly smaller dishes.  One alternative would be to use Kilner jars, which are also safe in a slow cooker, but I don't have any of those at present.  Many people have larger slow cookers though, so this is unlikely to be a problem.
Pyrex: 
Pyrex is a brand of strong glass that is oven proof, microwave proof and slow cooker proof!  I find they're really useful for most of my microwave cooking, including steamed puddings – and for steaming puddings in a slow cooker as they're "the right shape" – they are pudding shaped!  I prefer to use Pyrex jugs rather than bowls simply because they have handles and I do like to be able to grip a handle on a dish, but that's a personal preference.
I use Pyrex jugs when microwave mug cooking as they give me a larger portion and room for the ingredients and contents to "grow" and not spill over.
How to Use a Pyrex Bowl or Pyrex Jug in a Slow Cooker:
Firstly, make sure the bowls or jugs will fit in your slow cooker – put them in while the slow cooker is cold and the bowls or jugs are empty, so you know they'll fit and how you'll place them.
Very Important: Make sure your lid still closes with a tight seal – a slow cooker works by retaining the steam and heat, which can only happen if the lid closes. 
Put boiling water, from a kettle, into the bottom of the slow cooker. You don't need a lot, 1-2″ of water should be enough, but up to half way up the jugs is fine.
Fill your bowls or jugs with your meals and make sure the tops are covered – you don't want any cross contamination of taste between the two.  If you're simply cooking two similar meals this isn't as important as if you're trying to cook a curry and a lemon pudding at the same time!
You might wish to raise the bowls or jugs away from the base of the slow cooker – which you can do by putting a trivet in the bottom, or a layer of sliced vegetables, which you can also cook at the same time!  This is simply to ensure that the bottom of the jugs don't get too hot and cause the food inside to dry/burn a little.  I'd try to do it if possible, but it's not 100% essential in all cases.
Two Course Meals in the Slow Cooker: 
If you're cooking a main meal and a dessert, you can put just the dessert into a separate bowl/jug, or both courses.  Sometimes it might be a great idea to cook your root vegetables and gravy in the slow cooker bowl, with jugs containing the main course and the dessert.
If you're cooking for one, this is a great way to get one hot meal cooked in one simple kitchen gadget!
Of course, you can only do this once you've checked you can fit two dishes into your slow cooker – mine is only 3.5 litres, so I need to source a new bowl to get two to fit.