How Big is a Sheet of Ready Rolled Pastry?
|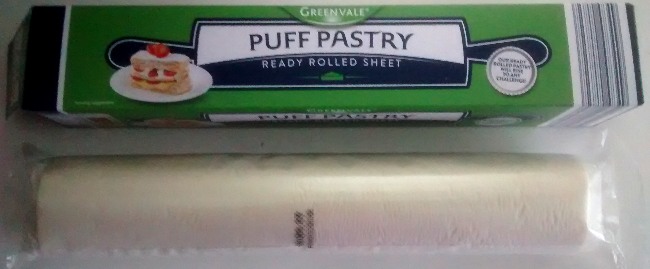 If you're trying to work out how far a sheet of ready rolled pastry will go, or which baking tins to use, you will wonder how big a sheet of ready rolled pastry is.  You might be surprised to learn, therefore, that the packs don't tend to tell you.
So I've just measured my latest pack, which is the Greenvale brand, picked up from Aldi.  This is the pack that costs typically £0.89.  It's always handy to get a sheet of ready rolled pastry in before Christmas so you can quickly make sausage rolls or a quiche or Christmas leftovers pasty.
The Aldi ready rolled puff pastry sheet was:
40cm x 25cm  
That wasn't so hard was it, so why don't they tell you that on the packet?  Who knows why they wouldn't want you to know that 🙂
The baking tray in my mini oven/toaster oven is 20cm x 22cm, so I can now instantly see that one sheet of ready rolled pastry would need to be cut into half to fit.  If I cut it into four slices then it's the perfect fit size for making pizza slices of 10x25cm each, or in quarters would give me 20x12cm
You can roll the pastry out further once you've unfurled it from the box, if you need it to be a little larger.  Personally, I just use it in the size it comes out of the box 99% of the time.
Freezing Ready Rolled Pastry
You can freeze these packs of pastry if you don't get round to using them.  Inside the box the pastry is sealed in a cellophane wrap.  Just put the wrap, or the whole box, into the freezer.
To use, you will need to defrost it, so take it out of the freezer and put it into the fridge the day before you want to use it.
Cut Pastry Before You Freeze
What I sometimes do is cut the pastry sheet before I freeze it – to fit the dishes I usually use it in. Or, I'll sometimes cut it into half.  By doing this, I can defrost just the amount I need, rather than the whole sheet.  A 20 cm x 25 cm piece, or 10 cm x 25cm strip is more useful to me than the whole sheet.  A 10 cm x 25 cm sheet of pastry can be used to quickly make a wrap, a baked slice or a single pasty.
Christmas Leftovers Ideas
These ready rolled sheets are great to turn Christmas leftovers into pies, or Christmas leftovers pasties.  Also, everybody loves a sausage roll!