Slow Cooker Pulled Beef Dinner, New Year's Day Lunch 2018
|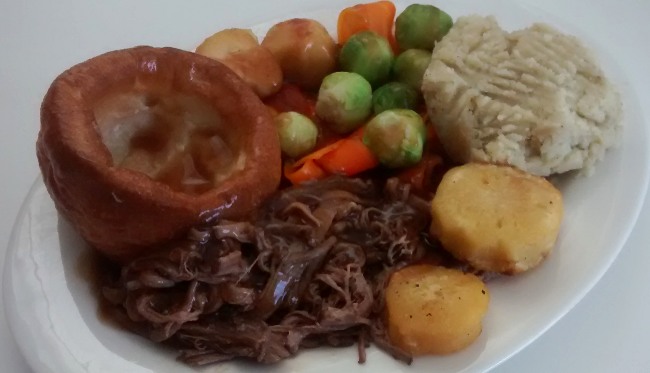 This slow cooker pulled beef was the last portion of the beef brisket I cooked in the slow cooker awhile ago and had frozen.  In an effort to use up an assortment of vegetables and a frozen Yorkshire pudding, I thought it'd make a nice pulled beef dinner for New Year's Day lunch.
When I was growing up mum'd always cook a fresh and whole Christmas Day Lunch again – the full turkey and all the side vegetables. I did think about doing this, but realised I really needed to use up the food I've already got rather than buying more turkey and creating MORE turkey leftovers!
What's on the plate is:
Slow Cooker Pulled Beef – a beef brisket cooked in the slow cooker that I'd previously portioned up and frozen, then defrosted in the microwave for 3-4 minutes in gravy.   Once reheated, I pulled the beef using two forks, it's as simple as that to turn beef brisket into pulled beef – just pull it apart with forks!
An Aldi Beef Dripping Yorkshire pudding, from a pack bought for Christmas lunch.
Mashed Maris Piper potatoes, still lurking from the big bag bought at Christmas.  I steamed the potatoes in a microwave steamer, then mashed them with a fork with black pepper and butter.
Brussels sprouts and carrots – microwave steamed in a simple takeaway box with a little water (3-4 minutes to make).
Roast potatoes and roast parsnips – Christmas lunch leftovers that I'd frozen, so just defrosted in the microwave for 1 minute, then reheated in my mini oven for 15 minutes.
It's difficult to "choose" what's on your plate when your main focus is using up what you've got and using food from the freezer to get it cleared (everything you put in the freezer has to be eaten at some point!).
This was a pulled beef dinner without much effort on the day!  Although I will admit that this eating amount of food had me floored for hours afterwards!