Giant Yorkshire Fillings: Chicken Dinner
|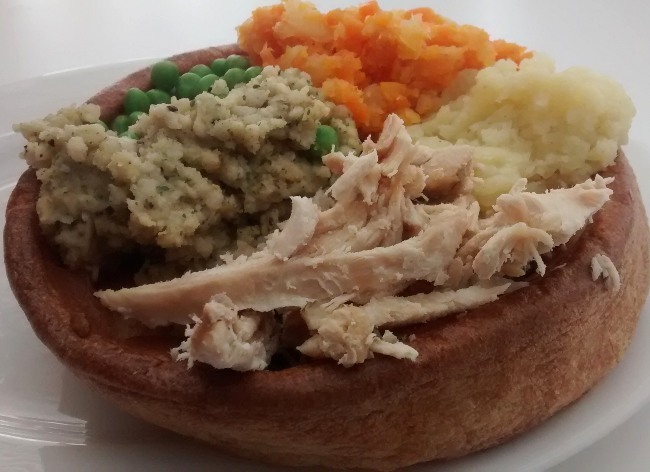 Giant Yorkshire pudding fillings were mulled over this week by me as I slowly worked my way round to getting to the point where I ate one!  I've been craving a giant Yorkshire pudding for some months now, but hadn't got round to it, but after I cooked a chicken breast joint in the slow cooker on Saturday, I had plenty of leftover chicken breast that I needed to eat – so it seemed ideal, especially as I had a pack of two Aunt Bessie's Giant Yorkshire Puddings in the freezer!
So that was it, today was Giant Yorkshire Pudding Filling Day at my house 🙂
This was going to be one of those meals where I combined food I'd cooked myself from scratch, with frozen food and packet food!  I could have cooked it all ahead, taking just 12 minutes to pull it together on the day, but I decided I'd make the mash fresh and "just enough", rather than what I usually do, which is to make 2-3 portions in one go.
Having decided that's what I was going to eat, I had some food to buy – I needed to buy potatoes, swede and carrots, which I did and I had immediately made swede & carrot mash in the microwave yesterday, ahead of lunch today, to prevent me from talking myself out of putting this meal together today.
So today it was just the mashed potato that needed to be made.
The giant Yorkshire pudding was reheated in my mini oven – everything else was cooked in the microwave in a row of mugs, using a total of five mugs.
Time: Thought to Plate ~15-20 minutes
Ingredients – Serves One: 
Don't get too hung up on quantities here, these are just what my Yorkshire pudding fillings weighed today.  This total meal probably weighed in at ~600 grams by the time I'd finished – a whopper!
1 Giant Yorkshire pudding – 7″/18cm across; buy one, or make a Yorkshire pudding yourself.
250 grams of potatoes
180 grams swede & carrot mash (made from approximately 120 grams each of swede and carrot)
60 grams peas, I used frozen
Gravy – I'd usually use gravy granules, but I had some gravy made from the chicken stock the other day
~30-35 grams dry stuffing mix, any flavour, I happened to have Sage & Onion stuffing in the cupboard, so that's what I used
Knobs of butter: Needed for the mash and the stuffing.
Salt/pepper to season the mashed potato.
Method:
Boil the kettle, you'll be using the boiling water for steaming the potatoes, making the stuffing packet mix and defrosting the peas.
Using a microwave safe mug, add a knob of butter and boiling water to the packet stuffing mix – I do this all the time: Microwave Stuffing Mix .  Leave to one side.  After 1-2 minutes, just check if it needs a little more water adding; it should be firm, not sloppy and not "tight".
Using a microwave safe mug, cover the frozen peas with boiling water. Leave to one side.
Peel, slice and steam the potatoes for ~8 minutes in the microwave – this is how I cook all my potatoes: Microwave Steamed Potatoes.  Once done I left them to one side with the lid on until I was ready to mash them.
Pre-heat your oven, as per the packet instructions (usually to ~180°-200°C/Gas Mark 6). Place your Giant Yorkshire pudding in the oven … and wait for 9-10 minutes while it cooks.In the meantime, get everything else ready to go – this part is a bit of a juggling act….
Put your chicken pieces into a microwave safe mug and cook the chicken in the microwave for 1½ minute on high power.  Leave the chicken in the microwave oven.  I microwave the chicken first, alone, because when you reheat chicken you have to make sure it's piping hot … I'll add the other items in a minute alongside it to continue cooking.
Put your swede & carrot mash into a microwave safe mug, I made mine yesterday, starting with 1Kg of swede and 500 grams of carrots, I then mashed half the cooked swede with the carrots and some butter and popped it into the fridge in an airtight container: Simple Swede & Carrot Mash Recipe.  This produced ~700 grams of carrot & swede mash, so I've used about ¼ of this in this meal.
Remove the cooked potatoes from the steamer and transfer them to a microwave safe mug, along with a little salt/pepper for seasoning and a knob of butter.
Give the stuffing a stir, to see if it needs a dash more water.
Add the mugs of mashed potato, swede/carrot mash and stuffing to the microwave oven, alongside the chicken.  Microwave them all together for 1 minute on high power.  Remove each and check/stir in. Replace them all in the microwave and microwave for 1 more minute on high power.
Check the food in your mugs is hot and remove them all from the microwave.
Strain the peas, then p

ut the peas in the microwave and cook for 30-60 seconds on high power.

Once cooked, place your Giant Yorkshire pudding on your plate and stack up the rest of the ingredients in it.

Start with the peas – then reuse that mug to cook/reheat your gravy in the microwave or mix up your gravy if you've used granules. You can re-use this mug as it's not mucky.
Once you've got your giant Yorkshire pudding laden with the fillings of your choice, pour gravy right where you want it!
Eat!
Looking at it now, I should've served this in a small round pasta bowl… as the plate's oversized. Oh well. 🙂
Further Food Cheats to Use: 
If you want to eat this, but don't have the time/can't make the effort, then you can cheat with some of these ideas:
Use dried potato rather than peeling/steaming your own – I always keep a box of this in the cupboard, as I don't always have potatoes available in the house.
Buy ready made carrot & swede mash at supermarkets (in the chiller, or in the freezer)
Buy ready cooked chicken in small packs.