One quick food cheat is to use your microwave to cook up some hot and tasty microwave stuffing mix. This is so simple that it's a staple in my house on Sundays!  Stuffing mix, microwave cooked!
While you can use a stuffing recipe, I keep things simple and always have 2-3 packets of stuffing mix in my cupboard. Typically just Sage & Onion Stuffing, costing about 15p at main supermarkets. I do like to, additionally, have a packet of special or unusual flavoured stuffing in the cupboard too.
Serves one!  This is a great extra to go with your Sunday roast as it works for everybody from serves one to serves the whole family.   All you need is the right amount of stuffing mix and the stuffing mix doesn't go off once you've opened the packet.  I do use clips to reseal all packages I open, to maintain freshness and prevent spilling/mess.
Whatever flavour packet mix you've got, this method works for them all!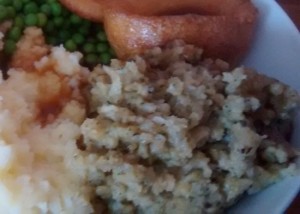 Ingredients:
a packet of stuffing mix
a knob of butter or margarine (optional)
boiling water
Method for Microwave Stuffing Mix:
I tip out the amount of stuffing mix I want into a microwave safe dish.  I tend to use a Pyrex jug, just because I find they are a great way to cook in the microwave; typically this will be 1/3rd of a small packet. It's all "by eye". How much do you want to make? You choose.
I then get a fork and get a knob of butter/margarine and drop the fork and the butter into the jug.  For those who like measurements, that's about one knob of butter per 30-40 grams of dry stuffing mix.  This is actually optional – you can skip this bit.
Pour boiling water to just above the stuffing mix level. The same amount you'd use if you were stuffing meat, or using a traditional oven-baked method.  If in doubt, just add it slowly, you'll see the packet plumping up into stuffing.
Stir the butter and water into the stuffing mix and leave it to plump out, possibly 10 minutes.
Check the consistency of the stuffing – stuffing should be firm and not sloppy. Give it a stir around and maybe add a splash more hot water if you think it needs loosening a little.
If you wish to, then this is the time you can shape the stuffing into balls or other shapes, I never bother.
Microwave the stuffing for 1 minute or so. Set aside for 2-3 minutes.
Serve
This is a cheat's stuffing mix prepared in the microwave, but the method would work if you want to make your own stuffing, from scratch.  Just soak any hard/dried fruit in a little boiling water for 15 minutes or so before you start, to ensure they're soft.
I always keep 3-4 packets of stuffing mix in the cupboards as it's a great, tasty, extra side dish I can add to my meals instantly!
I cook my stuffing for Christmas Dinner for One using this method, making sure I use a seasonal variation, such as Chestnut Stuffing, or Cranberry flavoured stuffing!  For special meals I'd also pop it into the oven most of the time, but that's just because I love the crust of stuffing and that choice has nothing to do with how the stuffing mix cooked in the microwave turns out without browning.
Make Your Own Microwave Stuffing: 
If you want to make your own stuffing from scratch in the microwave, see here: Microwave Stuffing Recipe From Scratch – where you'll learn the basics of how to build your own stuffing mix for your own tastes.