Simple Microwave Carrot & Swede Mash Recipe
|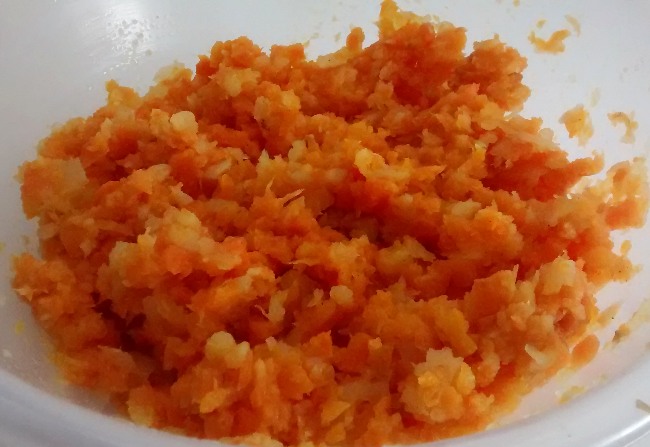 This carrot and swede mash recipe is made entirely in the microwave and takes about 15 minutes from start to finish.  I'd bought a swede, which weighed 1Kg and I had a 500 gram pack of carrots – I bought them to serve alongside the leftovers of the slow cooker chicken breast joint I have to use up.
As the swede was so much larger than the carrot, I knew I'd have too much swede, but that can be served, or frozen, on its own.
Pin It: https://www.pinterest.co.uk/pin/571535008952554330/
Equal amounts of swede and carrots:
The ratio of swede and carrots isn't critical – you can simply use what you've got.  The carrot & swede recipe below uses identical weights to start with, but you might find the size of your swede dictates how much carrot and swede mash you're making!  My starting point is always to use equal amounts of both (by raw weight); after that I personally prefer a little more swede in the mix than carrot, but each batch will turn out slightly differently depending on whether you've specifically bought the vegetables in, or are simply using up what you've already got.
Ingredients: 
Swede – any quantity raw, I've used ~500 grams
Carrots – the same quantity raw as swede – I've used 500 grams
25 grams Butter
Salt and pepper to season and taste.
Method: 
Cook the swede in the microwave – I use the Singing Swede method, in which you cook a whole swede in the microwave – I simply place the swede in the microwave oven and microwave it until it's soft in the middle.  In an 800 watt oven, with a 1Kg swede, I find this takes me ~18 minutes.
Top and tail the carrots, then cook the carrots in the microwave – the smaller you cut them, the quicker the cooking time.  I just cut them into large chunks today, but grating them, or slicing them with a vegetable peeler will speed up the cooking time.
Food Cheats Tip: If you throw in the whole carrots, after 3 minutes of cooking they'll be soft enough for you to cut through them easily with a small paring knife – it's easier to cut them smaller now, than when raw.
Once the carrots and mash have cooked, combine them in a bowl with your butter and salt/pepper and mash them.  You can use a simple fork to do this – or use a potato masher, hand blender or food processor.  Personally, I use a fork and a paring knife, as the quantity is quite small – I use the paring knife to quickly slice through the soft swede and carrot, then I'll use the fork to make them.If you've been thinking of getting a food processor to do this work for you, then check out the Best Selling Food Processors on Amazon UK: Food Processors.Soft & Smooth Mash? If you want soft and smooth carrot & swede mash, just like in the shops, then you'll need to use a hand blender or food processor to get that texture.   Alternatively you can use an electric potato masher, or even a potato ricer if you've got those.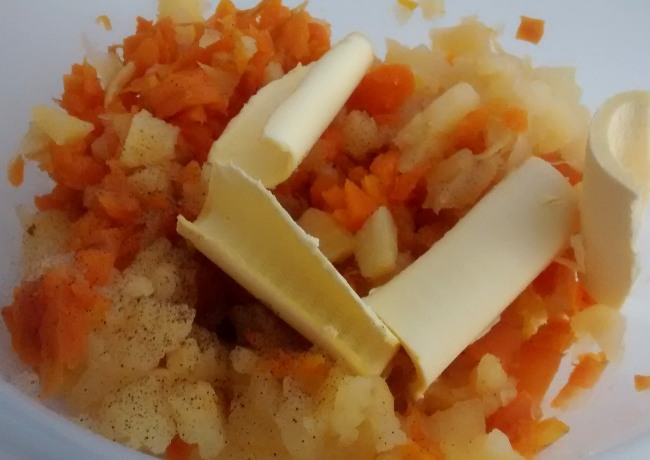 Serve immediately, or box up in an airtight container and pop into the fridge, where it'll keep for up to about 3 days.  Perfect to "make ahead" of when you need it.
Suitable for freezing – but do freeze by portioning up your carrot and swede mash into portions of the size you will want to use them.
Alternatives: 
If you have a good food processor then you can speed up this recipe by chopping up your peeled swede and carrot and simply microwaving them, together, in a microwave steamer.  By using smaller pieces it will significantly speed up the whole process and you can make this in just 5-8 minutes of cooking time.
I don't do that because I don't have a food processor to chop up the vegetables – and it'd mean peeling the swede first and they can be quite a tough item!
Serve With: 
Carrot and swede mash is a great vegetable side dish to any roast dinner and an increasingly popular side dish on Christmas Day.  1 ice cream scoop is a portion if you've other vegetables, or 2 scoops if you've only got 1-2 vegetables.  Pour gravy over your mash, or round it – again, that's a preference!
Today I've made up this carrot and swede mash as I intend to use some leftover chicken I cooked yesterday, which I will serve in an Aunt Bessie's Giant Yorkshire pudding, along with stuffing and mashed potatoes.  I made it ahead of time and put it in the fridge in an airtight container, so I can just microwave it when it's dinner time!
To Reheat: 
If refrigerated, you can reheat carrot & swede mash by microwaving it in a covered (not closed) microwave dish for ~2 minutes.  Give it a blast for 1 minute at a time, stirring after each minute.  You might choose to add a fresh knob of butter to the mix.
From frozen, place the frozen carrot & swede mash in a covered microwave dish and use the microwave defrost setting for 2-3 minutes, stirring and breaking it up each minute; increase the power to high power and microwave until it's steaming hot, which will take 1-2 minutes depending on the quantity.
The larger the quantity you are reheating, the longer it takes to reheat, which makes perfect sense!
How Much Weight Is Lost by Swede and Carrots When Cooking?
When you cook swede and carrot, you will end up with something that weighs a lot less than what you started with.  This is because the water's steamed off.  This carrot and swede recipe started with 1Kg of raw swede and carrot, plus 25 grams of butter – and the end result weighed 700 grams.
As a rough guide, I've weighed my swede and carrot today and the change in weight showed the following:
Swede: 87% of starting weight
Carrot: 80% of starting weight
However, as the root vegetables get older they dry out a little, losing water and weight.  So this isn't a meaningful figure in reality – but it's a guide in case you're interested 🙂  I just like to weigh things.
Menu Cost: 
The price of vegetables varies enormously, depending on when you buy them, where from and the quantity.  Today, as an example, I used half of a 1Kg swede, which was 25p, my 500 grams bag of carrots cost me 28p and the knob of butter was about 7p.  So, today, this carrot & swede mash recipe produced 700 grams of mash by the end of the cooking process, at a cost of 60p.
A typical supermarket ready made pack of carrot & swede mash might cost you £1.50 to £1.75 for 500 grams, which is 30-35p/100 grams.  Your own homemade carrot & swede mash, as in this recipe, works out at 8-9p/100g, so it is 1/3rd of the price.