Simple Oil and Flour Pastry
|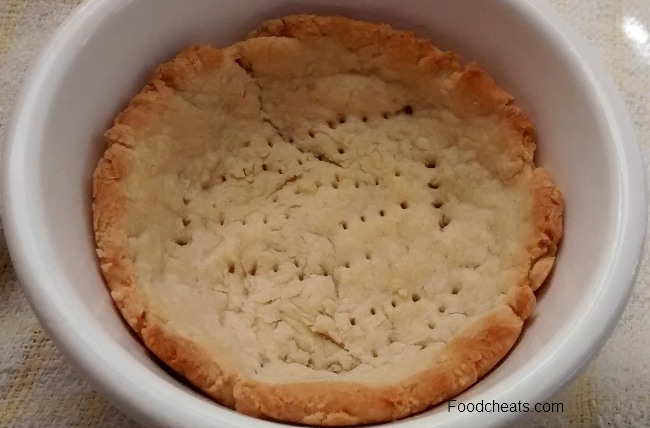 This simple oil and flour pastry is one I've been making for decades, when I just want to make a small amount of pastry for a quiche or a tartlet – no mixing bowl required, this is pastry you can mix in a teacup or a mug!
The recipe below for a simple oil and flour pastry makes enough for one small tartlet.  Perfect if you're cooking for one!  The recipe can be doubled if you want to make something a little larger, the dish I've made this in is a single serving Charlie Bigham pie dish so just 4½"/11cm wide at the top.
Ingredients: 
2 tablespoons of plain flour (20 grams)
2 tablespoons of self raising flour (20 grams)
1 tablespoon of oil
1 tablespoon of ice cold water
Pinch of salt
Method: 
Measure out the water and pop it into a small pot in the freezer, to get it ice cold, it'll take about 10 minutes.
Spoon out the two types of flour and combine them with the pinch of salt – I use a mug as this is a tiny quantity of pastry.
Remove the ice cold pot of water from the freezer and add the oil (I'll use whatever oil I've currently got, today it was vegetable oil). Using a fork, quickly beat the oil and water together so they are fully combined, the liquid will have emulsified.

Pour the oil/water mix into the flour and combine the flour and water/oil to form a dough.
Roll the dough in your hands into a ball – it's smaller than a golf ball – and drop it into your baking dish.

Using your fingertips, just press the pastry out to the corners of the dish.  You need to keep this pastry thin and an even thickness, watch out for the corners of your dish where pastry can tend to become thicker than elsewhere.
Pop the pastry dish into a small bag and put it in the fridge to rest for half an hour.
Remove your dish from the fridge and prick the base.  Bake at 185°C for 15 minutes.

Allow your pastry case to cool.
Add your tartlet ingredients and bake for 15-18 minutes in an oven at 185°C until your filling is cooked.
Notes:
Although this is an easy pastry to put together, with this small amount you're making it can be easy to have less than ideal results, so just be mindful of what you're doing to get the best results. While you're making this bear the following in mind:
If you get the ratios wrong, it can be a little greasy – be mindful of this and maybe add in a small sprinkling of flour as you're mixing it.
The pastry has have even thickness, to enable it to all cook at the same speed, watch out for the bend in your dish to ensure the corners aren't too thick.
If you don't let the pastry cool before you use it, adding the ingredients and baking it too soon can result in a soggy bottom.
The dish you use can have an effect on results; I prefer to use tin trays. I am happy to use a ceramic dish, but this is more likely to produce a soggy bottom.
This is a simple pastry – so why not just "give it a go" one day and see how you get on!  Try different oils, or different flours, to see which works best for you!
Menu Cost – 5p: 
This simple pastry will cost you about 5p to make!