Crisp Sandwiches: Cheese, Salad Cream, Crisps
|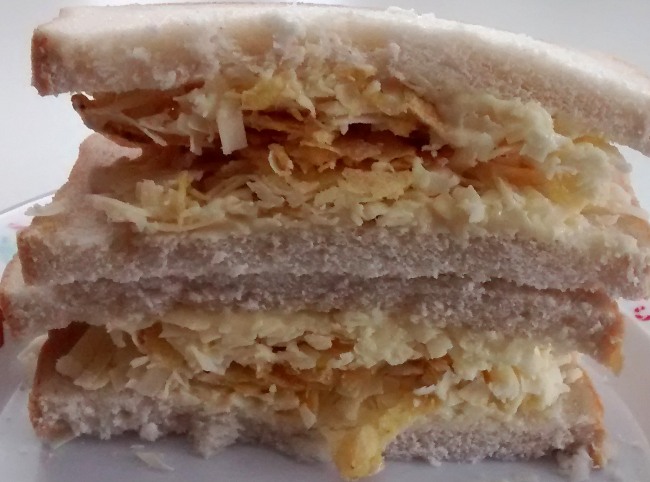 Everybody loves a crisp sandwich!  Whether they're your favourite flavour of crisps, carefully matched to your other sandwich ingredients, or you're trying to dispose of some cheap crisps you wish you'd never bought, a crisp sandwich, with its crunchy layer, always goes down a treat.
So, it was with great excitement that I decided to have a cheese and crisp sandwich for lunch.  I'd randomly bought a 24 pack of mixed bags of crisps from Lidl the other week, it was some special weekend offer where you got 24 bags of crisps for 95p, so I thought "why not".  I was lured in by that cheap price.
I'd normally avoid multi packs of crisps because there are always flavours I'd not choose to eat, but at 95p for 24 bags, I couldn't help myself.  There were six bags of cheese & onion crisps and six of prawn cocktail – these weren't a problem, these flavours are flavours I'd choose.  The six bags of salt and vinegar could be eaten, at a push.  But as I neared the bottom of the bag I realised that there were still the six bags of crisps lurking at the bottom of the bag to tackle.
So, in a bid to get started on these, it was Crisp Sandwich Day here at home 🙂
I already had grated vintage cheddar cheese and some light salad cream (for those who don't know this, it's like mayo but has a tangy flavour to it as a little mustard has been added and probably a little sugar).
Usually I'd make a cheese sandwich and put a few crisps on top – but today I decided to "go large" and have a double decker, fully loaded, cheese & crisp sandwich, with two layers of cheese!
Ingredients: 
2 slices of bread, any bread
A big squirt of salad cream, instead of butter, but you could use butter or mayo
50 grams of vintage cheddar cheese, grated – any hard cheese will do though
1/3rd of a small bag of crisps, so <10 grams.
Method: 
Lay out the bread slices side by side and squirt the salad cream over them.  It's optional to spread this to the edges, I just leave it as it is.
Cover both slices of bread with grated cheese – to create the two layers in the finished sandwich
Layer the crisps on one slice of the bread, as many as you want.
Carefully flip the cheese-only slice of bread on top of the crisps/cheese slice.
Cut in half – no need for sandwiches cut as triangles, this is a crisp sandwich, so best left simple.
That was really tasty!  It's a fast no cook lunch, perfect for a snack, or a packed lunch box idea.
Menu Cost: 
2 slices of bread, £0.04 + salad cream £0.05 + cheese £0.21 + crisps £0.02 = £0.32.  A very frugal and enjoyable snack or lunch.
All you retro food lovers – THIS is one of the Holy Grails of food 🙂
Enjoy!