Microwave Flapjack Recipe: Cherry Sultana Flapjack
|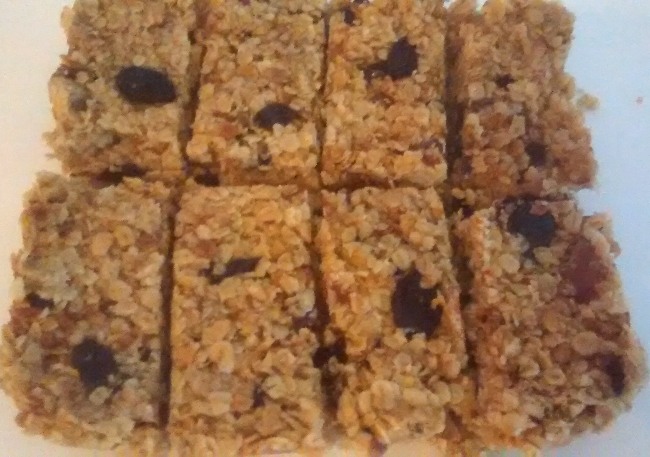 This microwave flapjack recipe takes just 5 minutes, you can be in and out of the kitchen and cleared up in under 10 minutes!  It's an easy recipe to do and uses ingredients that you can keep in your cupboards easily enough for years!
I've always made my flapjacks in the microwave because it's so quick and easy.  They're MUCH better than shop-bought flapjacks I've tried, which tend to knock your teeth out, or just taste "fake".
This recipe is a "serves 1-2" quantity, but the quantities can be doubled, or more, easily enough.  By the time I've written this I've already eaten the whole batch, to be honest….. and I couldn't even wait for it to be chilled/cold before I sliced it!
The flapjack recipe is very flexible and can be adapted to include many dried fruits that you've got lurking about.  These make tasty healthy treats to eat at home, to take to work, or even to slide into a picnic bag if you're heading for the beach.
Microwave Flapjack Recipe Ingredients: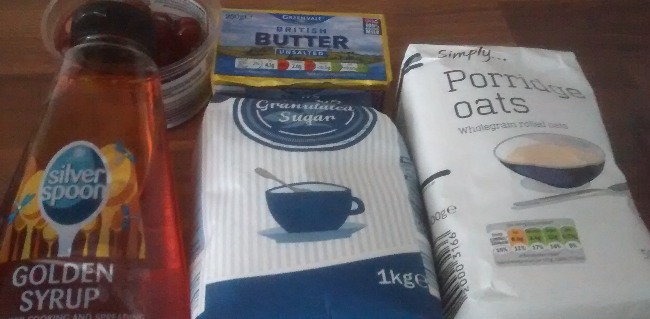 50 grams butter (unsalted is best, but if that's all you've got, then go for it!)
12 grams sugar – any type of sugar you've got will work
2 tablespoons Golden Syrup*
100 grams rolled oats, the cheap oats are perfect for this, I used porridge oats which are rolled oats
50 grams of glace cherries (I counted that as 20), chopped if you wish each cherry to be halves or quarters – or you can use fresh or frozen cherries if you prefer.
25 grams of sultanas
* If you want to weigh out the golden syrup instead of using a spoon, I weighed it – and you can see for yourself how much it was: How Much Does 1 Tablespoon of Golden Syrup Weigh?
Method:
In a microwave safe dish or jug, melt the butter and sugar together in the microwave, this will probably take about 1 minute. Give it a good stir to make sure the sugar's melted.
Add in the golden syrup, the cherry pieces and your sultanas.
Give the mix a good stir through, so all the oats are coated in the wet mix.
Microwave on high power (800 watts microwave) for 3 minutes.
Get a small dish (mine measures 15cm (6″) square) and either grease it or line it; I lined mine with foil.
Spoon or tip the hot flapjack mix into your dish and use the back of a spoon to press it down and press it into the corners of your dish.
Set the dish aside for the flapjack to cool down until it's cool enough to put into the fridge (about 30 minutes)
Once set, you can cut the flapjack into slices – or, if you're like me, just slice it and eat it before it's actually set as you can't wait 🙂
How Long Does Flapjack Keep?
You can wrap each individual piece of flapjack in a foil wrap, or put them all into an airtight jar or container, like Lock & Lock boxes.  Kept like that, they should easily last 4-5 days, if not more.  There's not really anything in this recipe that would make them go "out of date" as such.
Can You Freeze Flapjacks?
If you wish, you can freeze the flapjacks.  I'd probably wrap them individually in foil wraps, then put all the foil wraps into a freezer bag.  To eat them, remove from the freezer and defrost out on the worktop, or pop into your work bag and they'll have defrosted by lunchtime.
Menu Cost = 8 Flapjacks for 60p!
You might be wondering how much this flapjack recipe costs to make. They are exceedingly cheap to make.  I used 1/5th of a packet of butter costing 75p/pack; I used 100 grams of a 500 gram bag of oats that cost 39p/pack; 12 grams of sugar from a 1 Kg bag that cost 75p/Kg; the Golden Syrup cost me £1 for a ½ litre bottle; the glace cherries and sultanas I can't recall how much I paid, but glace cherries are typically £1/tub, using about 1/4 of that and sultanas can be found at 88p/500g.
This gives a total menu cost of about 60p to produce 8 good sized flapjacks, with a total end weight of 260 grams.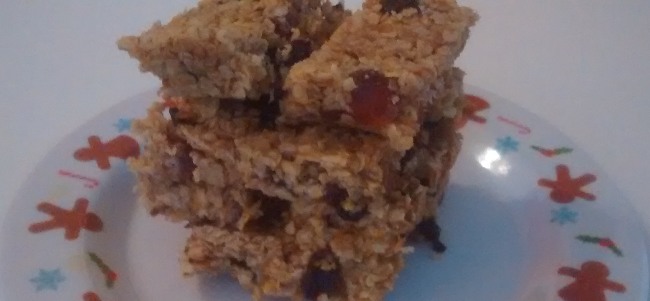 Flexible Recipe
Every time I make flapjacks I include different ingredients in them, simply omit the cherries and sultanas and drop in 50-75 grams of your own fresh or dried fruit, chocolate, nuts, or whatever else you've got!  This time I happened to have some Christmas glace cherries to get through, so a flapjack recipe seemed the quickest way of using up those leftovers without baking a cake 🙂