Cheaper Than Meals on Wheels
|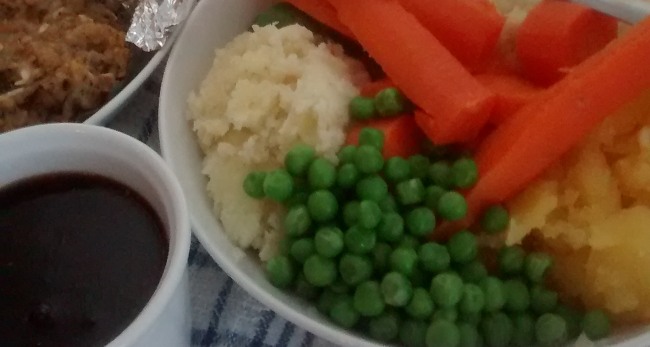 Meals on Wheels are a hot topic in the press at the moment as prices are rising and services being withdrawn. In many cases, a simple hot meal at dinnertime can cost £5-6 each day.  That's a colossal amount to be spending on one meal/day for most people and, if your options are limited, you might be having to choose whether you can afford more than 1-2 of them per week.  Beyond cost, there's the independent living aspect to consider.
In many areas there is no Meals on Wheels service any more; in other areas private companies provide a similar service – typically they'll be small hotels or catering companies who are utilising their facilities for an additional income stream.  Companies like Wiltshire Farm Foods will deliver ready made frozen meals, delivered to the door, but it's possible to think a bit smarter than this for a lot of people.
But, for many people, an actual "Meals on Wheels" provision might not be essential.  I'll admit that, for some, it is an essential service – those with limited mobility and functionality might struggle to know when to eat, to decide what they're eating, then get a packet into the oven or microwave and reheat it for the correct amount of time.  But, there are many other times when people might see it as their only way to eat a hot meal.  Maybe they can't cook as it was done for them until recently and they've no idea where to start.
Look at the situation you're trying to cater for and think through the options to see what else you can do.
I don't use an oven or a hob 99.99% of the time.  Often, cooking for one, they're simply not practical – and I have had a lifelong phobia of gas and electric when used in large quantities, all irrational fears that I have to live with most of the time.  I can only cook on a few hobs and ovens, under certain conditions and, unfortunately, where I'm living right now isn't one of those!  So I've been trying to work round my issues and cooking for one, to experiment with what's possible to put together without any effort at all because, in addition to my issues, I actually don't enjoy cooking at all and have no dishwasher, so minimising washing up's key.  I've also no food mixer or food processor – gadgets that, increasingly, are used in modern cooking.  Many chefs on the telly simply move food from one gadget to another … serve up, then put all their gadgets into the dishwasher.  Everything I do is "by hand", and so I've found my little gadgets that work.
Most addresses in the UK can get a home delivery of food from at least one supermarket.  Choosing food from their websites can give you more choice and options, often at a cheaper price.  If somebody can go into the shop and pick up the shopping then the options are greater.  Individual steam bags of vegetables give a good variety, although 1Kg bags of mixed veg are cheaper and they can still be steamed in a covered dish in the microwave!
It might simply be that you're active and fit… but broke both legs skiing – you don't want OAP meals on wheels, and you don't want to be having takeaways delivered (especially as you still have to get to the door when the bell rings!)
Here are some handy gadgets that work for me that you could consider to make your own meals at home if you're struggling:
Slow cooker: You can easily make stews and casseroles from frozen vegetables, tinned foods and frozen meat.  Used with a silicone ladle  they're easy to manage.
Microwave Boiled Egg Maker: This is great as there's no saucepan of boiling water to carry or manage safely; my parents had an electric egg boiler, but that had a whole pot of boiling water that needed to be emptied and, in the hands of somebody with osteoporosis, was lethal.  I've actually got two, I'd recommend the single egg boiler; I've a 4-egg boiler, but the shape of it makes it very dangerous to get out of the microwave as it's hard to grip.
Toaster Oven: What's good about this is operating it relies on using a timer switch.  The maximum time it can be left on for is an hour – once the time's up it pings and turns off.  Great if the person cooking might get distracted, or nod off, or sometimes find they're unable to get to an oven to check food/turn it off.  A toaster oven is a small oven, perfect for cooking a pie for 1-2 people.  They are portable too (within safety constraints), so can be placed in more convenient positions for some people.  If you're buying supermarket ready meals, then a small toaster oven might make more sense than using a full-sized oven!
Microwave Noodle Bowls: These are great for making one pot microwave meals, or reheating meals, as Buddah salad bowls, or even for marinading meat in and storing leftovers.  What's also great about these is they're lightweight and the lid is watertight, meaning that if you're struggling with walking, you won't drop your food between the kitchen and your seat!  There's no joy in reheating a mac cheese if you have to stand by the microwave to eat it from the dish – just scoop it into one of these, pop the lid on … and shuffle off!
Toaster Bags: I don't actually use these, but they're a great invention.  What you have to look for though, that they don't "warn" you about, is that they might be too big for your toaster, so check the size of the toaster slot and the size of toaster bags – you might have to buy a new toaster.  Everybody likes to feel in control of when they eat – and if you can make a quick toastie then the world can seem a better place.
Pyrex Jugs: These glass jugs are great for reheating food in the microwave, or for using to make mug meals (with a reasonable sized portion)!  I do a lot of cooking with Pyrex jugs.  They've got a handle, making it easier to lift them out of the microwave oven, and giving you something to "grip" if you're mixing.  They're microwave safe and can also be used inside a slow cooker to cook a separate dish to what's in the main bowl!  I make microwave sponge puddings in my Pyrex jugs as it's the perfect size/shape!  For making the custard, a regular coffee mug's just the right size, using instant custard – or buy cartons/tins of custard.
Just think outside the box, investigate tools and gadgets that'll make it easier to feed yourself without effort.  There's a lot out there these days.  I've got one of the one-touch jar openers, although I don't use it yet, it's in the cupboard in case I can't open a jar.  In the future an electric can opener will find its way into my house, it's just a matter of time!
Think about what you CAN do and find a solution that works around problems.  Unless you're completely physically disabled, or of feeble mind, there's something you can do to cook some food for yourself in some way that's easier/safer.  It's just a question of being open to those ideas for many.
It's just a new Life Challenge to meet!