New Green Noodle Bowl for Microwave Cooking
|
I love these noodle bowls – I've already got two, as well as two of the microwave soup mugs, but they were all in red and I fancied a slightly cheerier colour for the summer!  I've a lot of bright and cheery plastic-ware in my kitchen as it reminds me of the summer and beaches and makes me smile.  There are no "high end matching items" in my collection, just a collection of cheery items that bring me colour and memories!
These are microwave cooking bowls, with a special vented lid.  The lid is a clip n clip, or lock n lock, style – so leakproof.  But you don't HAVE to use them to cook in the microwave, that'd be a waste of their other many uses around the kitchen.  They're great for storing cold meals in the fridge too!
One great use for these is to make layered salads to take to work.  With a few (five?) lined up across the worktop I figured it'd be easy to chop up a whole lettuce, cucumber, tomatoes and then add in some sliced of boiled eggs, mayonnaise and some potato salad – or whatever I fancied, all in one quick session, then seal the lids and pop them into the fridge.  What I like about eating from the bowl is the handle, great for gripping.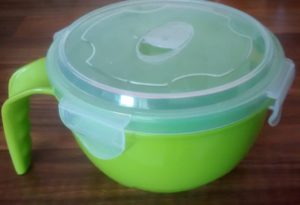 Layered salads are great in the summer and they're great for a beach picnic too.  Indeed – these bowls are perfect for taking food to the beach as you've got a sandproof lid, a great handle (ideal if you've sandy or wet hands) and they're unbreakable and lightweight.
Although these are microwave cooking bowls, they're really versatile and so I use them for a lot more uses around the kitchen than cooking up plain old microwave meal ideas!
So here's my newest acquisition – my new bright green microwave noodle bowl!
Trouble is, I'm not finished yet …. it's a lovely colour, I think I'll order another one!
They're microwave, freezer and dishwasher safe.  The vent in the top should be opened when you're cooking food in the microwave.  The clip n clip locking mechanism locks the lid onto the bowl, making it leakproof.
Who wouldn't want more of these?