Best Way to Get Food Out of a Slow Cooker
|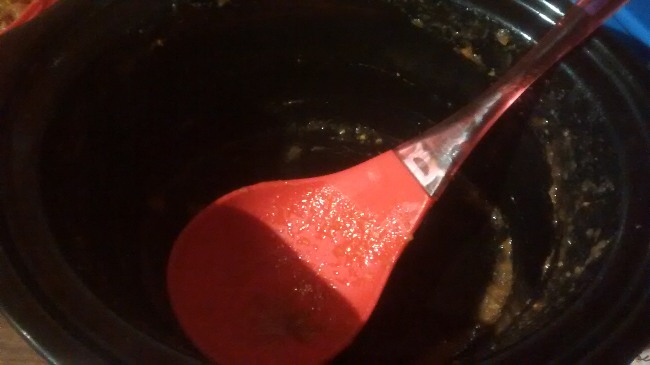 When you make a slow cooker meal, the pot can be quite heavy.  My slow cooker's just a 3.5 litre capacity, but it's still quite unwieldy when it's full of steaming hot goodness.
I've tried a few ways to get the food out of the crock pot easily, without mess and safely.  Then, the other week, I was in the shops and spotted the perfect thing!  And I've now tried it out and can absolutely swear it's the best way to get food out of a slow cooker!
Before I bought this, I'd struggle, by using 2-3 different spoons, scoops and ladles, now it's just the one!
Silicone Ladle
A simple silicone ladle does the job!  They are low price, lightweight and flexible.  Firstly you use it as a ladle, to scoop out your meal, but, as you get down to that final ½" at the bottom, this is where a silicone ladle comes into its own.  Being a rubber-like material it bends so you can quickly sweep round the bottom of the slow cooker, scooping out that final portion.  Zero waste!
Everything I'd tried before just didn't have the features I wanted:
A long handle
A good sized ladle bowl, to scoop large portions out easily
The flexibility to be able to reach right into the corners, afforded by the bendable silicone
Non scratch on the slow cooker.
Something bright and cheery (that's a personal favourite, rather than a practical requirement)
Washing up is easy too, just a quick wipe with washing liquid and hot water!  I also specifically chose this ladle for its bright colour – I like to buy individual pieces for the kitchen that give a bright splash of colour.
Nothing "matches" because that brings a long-term commitment to one colour that I don't want to make.  I like my cheery brightly coloured bits and bobs 🙂
I think everybody I know who owns a slow cooker will be getting one of these for Christmas later this year!  A great gift, or stocking filler, with prices from £3 upwards.
If I ran the world, they'd be compulsory.
Where Can You Buy a Silicone Ladle?
I bought mine at Home Bargains, the range is Brights – I'm sure similar discount shops will have something like this.  Equally, cookware shops from Lakeland to John Lewis might have something stylish and tasteful!