Microwave Boiled Egg Maker
|
A favourite breakfast in my house is boiled egg and soldiers – and I make boiled eggs perfectly every time using a microwave boiled egg maker.  In fact, I liked my first egg boiler so much I bought a second one.
The egg boiler is one of my favourite kitchen gadgets and it's used weekly! I didn't buy the first version – it was bought by my dad and it was in the cupboard when I was clearing his house out – I suspect he bought the microwave boiled egg maker, thinking it sounded like a good idea, then never actually used it! That is typical of many people – you do have to go out of your way to use a gadget the first few times, before it becomes part of your lifestyle and habits!
Boils 1 Egg; Boils 4 Eggs
I've now got two of these easy egg makers: one boils one egg and the other boils four eggs.
The photo of a boiled egg on this page is an actual egg I cooked on a previous breakfast, just to show how great it works!  No fakery here!  The budget wasn't skimped on, that's a full £0.08 of boiled egg frugal breakfast right there!
Works Perfectly Every Time!
The first time I microwaved a boiled egg I didn't have high hopes. I was a disbeliever. But I was staggered by the simplicity and the results. It's worked perfectly every time I've ever used it.
Firstly, what I liked about it was that there is no need at all to prick the egg. I've seen electric egg boilers before and they require you to pierce the raw egg – something that can go quite wrong. So, the first feature that captivated me was that it was easy to use.
This great kitchen gadget has worked perfectly for me EVERY time. Not one disappointment. Here is my perfect cooking for one microwave egg boiler:
I am always cooking for one – and so this is great for making a boiled egg for one person. No need to get a saucepan out, wait for water to boil, wait for the egg to boil, then wash a saucepan up, especially in hard water areas where the saucepan gets a mark round the inside where it was boiling! The boiled egg maker also enabled my mum to cook her own boiled eggs safely, with her osteoporosis. It'd also be safe for kids to use as they're not having to use the stove or quantities of boiling water! Other people will see other benefits, such as reducing condensation in the kitchen.
I will also point out, from the start, that the microwave process makes absolutely NO difference whatsoever to the final taste or texture of the egg – nobody would ever know it had been cooked in a microwave at all. This is another aspect of what makes this such a brilliant gadget.
All I had to do was:
Fill the base with water up to the fill level, which is just a few tablespoons of water
Place a metal egg holder on top of the water
Plonk the egg onto the metal base.
Twist the top onto the boiled egg maker.
The interesting thing about the design is that you'll notice the inside is metal. We know that you can't put metal objects into a microwave, but the microwave egg maker is made of metal on the inside. The outside is plastic (mine is shaped like a chicken too!).
My microwave boiled egg maker holds just one egg – as I said, I didn't buy this, I inherited it.  However, since then I have invested in a 4-egg maker, for those times when I want to boil 4 eggs at a time. When it's just for me and I am making a soft boiled egg to serve for breakfast, or a hard boiled egg for salads or sandwiches, then just doing one egg at a time is sufficient.
The next bit is just as easy, to boil the egg in the microwave:
Place the boiled egg maker into the microwave
Set the microwave to medium
Set the timer.
In an 800 watt microwave oven I find that the following timings work for me, so here's my handy reminder of how long does it take to microwave a boiled egg:
Soft boiled egg – 4½ minutes in the 1-egg maker, set at medium on an 800 watt microwave.  This is a boiled egg and soldiers cooking time!
Hard boiled egg – 7 minutes in the 1-egg maker (set at medium), 10 minutes in the 4-egg maker, set a high.  Both refer to using an 800 watt microwave.
How long it takes to boil an egg in your microwave will depend on: the size of the egg, the power of your microwave. However, like all things, after you've tried it 1-2 times you'll know exactly how long is right for you.
The photograph you can see is my actual hard boiled egg done in a microwave for 4½ minutes on medium, which, for me, was perfect. 4½ minutes in the microwave is the best time for a soft boiled egg I can dip soldiers into!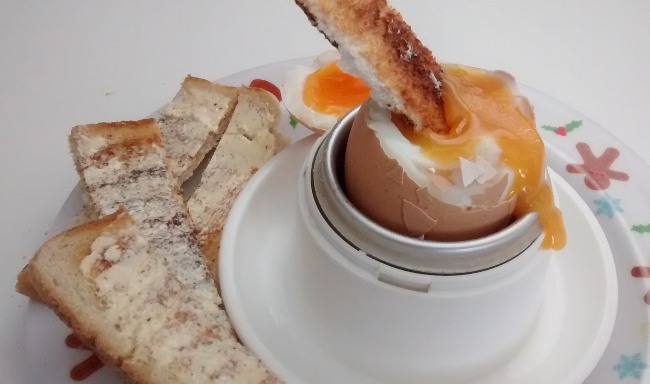 My microwave egg maker can also be used as the egg cup, which I find handy as that's a great way to reduce the amount of washing up that needs to be done!
A microwave boiled egg maker is very easy to use and is a safe gadget. It's ideal for great tasting hard boiled eggs or soft boiled eggs cooked easily and without mess or fuss.
If you're living below the line, as part of the Challenge, or a way of life, then one boiled egg, plus a piece of toast, makes a 10p breakfast! And it's filling.  A treat, you don't feel hard done by!
You can keep an eye out for them in local shops – just last week Aldi were selling their chicken-shaped version as part of their "In Store Special Buys" at £1.99.  There are a few cute designs available, or, if you simply want one of these without the hassle, there's always buying on Ebay – offering a variety of sizes and styles. As I said, I've got a 1-egg maker, for when I make boiled egg and soldiers – and I use my 4-egg maker when I want to quickly microwave boil four eggs to pop into the fridge for sandwiches or a salad.  Next time Aldi sell them I'll certainly pick up another one as Aldi are opening a store near me in about 3 months' time so it'll be easy to pop down.
Posted: December 10, 2017, 10:44 am
Image © by me – this is the actual egg I cooked and ate earlier.