Boneless Turkey Breast Joint in Slow Cooker
|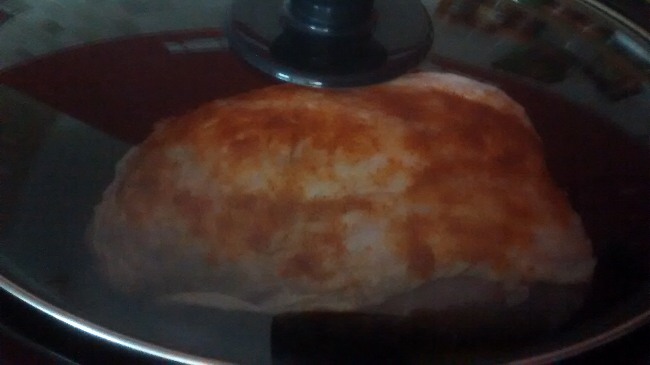 It's straight forward to cook a boneless turkey breast joint in a slow cooker – at its simplest all you need to do is throw in the turkey breast, turn the slow cooker on and walk away. But clearly we all like to "fiddle a bit" with our food and feel we've made just a little more effort, so here is the recipe for boneless turkey breast joint that I'm cooking in my slow cooker for Christmas Day this year.
I'm cooking Christmas Dinner for one so have chosen an 800 grams turkey breast joint – it was frozen, but I defrosted it in the fridge for 24 hours. Even after this time it still felt it was a little frozen in the middle! I bought the Asda turkey roast joint, for no other reason than it was available and I needed one.
Self Saucing Turkey!
This recipe not only cooks your Boneless Turkey Breast Joint in your slow cooker, but also makes the gravy for you!

Ingredients: 
1 frozen (or fresh) turkey breast joint (800 grams JUST fits a 3.5 litre slow cooker).  Defrosted if frozen.
1 onion, for the turkey breast to sit on
1 lemon, for the turkey breast to sit on
1 teaspoon of oil
½ teaspoon of garlic granules
¼ teaspoon paprika
Salt/pepper to season.
Slow Cooker Turkey Recipe:
Place an onion, cut in half on the bottom of the slow cooker
Cut a lemon in half and put it on the bottom of the slow cooker: Note – one lemon will produce a VERY lemony taste, so only use one half if you don't want lemon taste overload!
Place the turkey breast, skin upwards, on top of the onion and lemon
Make a turkey breast rub mix from a teaspoon of oil, ½ teaspoon of garlic granules, ½ teaspoon of onion salt, ¼ teaspoon of paprika, a shake of ground black pepper and a sprinkle of salt.  Mix this together and rub it over the turkey breast (I use the back of a teaspoon as I can't touch raw meat).
Place the lid on the slow cooker and turn it onto full for 1 hour.
Turn down the slow cooker and cook on low for 5-6 hours.
Alternatives: 
Root Vegetables: If you don't have a lemon and an onion, you can just use some raw root vegetables (carrots, potatoes), or even some rolled up balls of foil – the purpose of the lemon and onion are to add some taste to what will become the gravy AND to keep the turkey breast off the bottom of the slow cooker so it's not drowning in its own juices.
Oranges: If you bought way too many oranges, as it's Xmas and maybe the shop only sold whole boxes or huge nets, you can use a couple of oranges, clementines, tangerines or similar at the bottom of the slow cooker instead of the lemon and onion.
How Long Do You Cook the Turkey Breast For?
For an 800 grams turkey breast joint you'll need to cook it on low for 5-6 hours.  If you've got a food thermometer then it needs to have reached 165°C.  If your turkey breast is larger then it'll need longer – up to 8-9 hours for a 1.5Kg breast.
Cook Ahead:
You don't have to cook your turkey breast on Christmas Day if you're nervous about timing – cook it the day before, then remove it from the slow cooker and store it in a covered container in the fridge, either with or without your gravy.  You can slice it up, cover it with gravy and reheat the breast in the oven on Christmas Day for 20 minutes, or microwave it hot again (3 minutes), or reheat it in a toaster oven.  I plan to microwave the turkey for 2 minutes, then I'll pop it into the toaster oven for 10-15 minutes to brown alongside the roast potatoes, parsnips, stuffing and the rest of my Christmas Dinner.
Making Turkey Gravy:
You can use the juices from your turkey to make your gravy. Simply add in a couple of teaspoons of your regular gravy mix to the hot juices and serve – if you like your gravy a little thicker then you can reduce it in a saucepan, or, uncovered, in the microwave oven – or even "cheat" by adding a little cornflour.  Because of the lemons used, the gravy will have a lemony taste, half a lemon in the recipe is fine if you don't want a strong lemon tang.
Photos of this turkey breast joint, on a plate, with the gravy …. will be taken tomorrow when I serve it!
How Much Does it Weigh Once Cooked?
Having cooked this 800 grams turkey breast, then cooled it and popped it into the fridge, I weighed it just before serving – and it weighed 510 grams when cooked.