Microwave Keema Minced Lamb Potato and Peas
|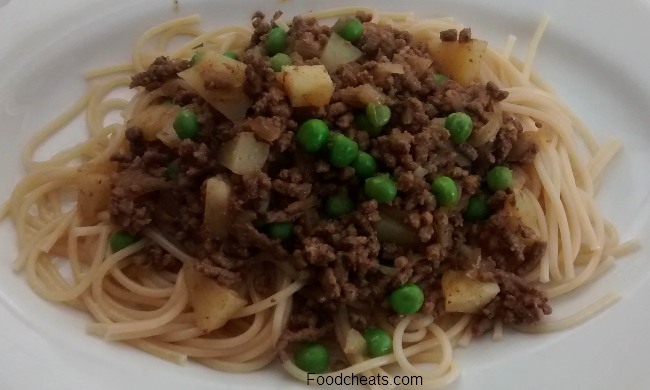 This microwave keema minced lamb potato and peas is cooked entirely in the microwave and is quicker to put together than going out to buy a similar ready meal from the supermarket!  Keema minced lamb is just "slightly spicy, slightly curry, lamb" and this recipe is not hot.  If you require more of a punch then just double the spices – you can always have a taste half way through if you're unsure how hot you like it!
Today I've served it with spaghetti, but I'll also use this recipe with basmati rice, just naan bread, or as a jacket potato topping!
The ingredients are quite fluid, meaning you can bend and adapt it depending on what you've got.  Today I used frozen lamb mince to make this.  The quantities of meat, potatoes and peas are variable, depending on how you wish it to be, or the amount you've got in your house.
This recipe allows the keema minced lamb to sit and rest quite a few times during the cooking process, just to enable the flavours to distribute and infuse – it is not totally essential if you wish to cut those corners too!
The outline process is: cook onion with spices; cook lamb mince; cook potato; combine lamb, spices, potatoes, peas together and cook them together.
Serves 2 meal portions, or 1 very generous portion, or 1 meal and enough for a jacket potato topping portion!  About 500 grams in total.
Ingredients: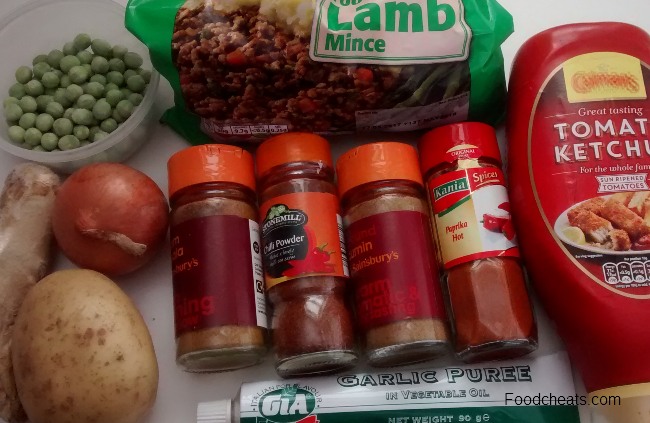 200-250 grams lamb mince, frozen
1 small onion
50-75 grams peas, frozen
1 small potato
Spices: ½ teaspoon cumin, ½ teaspoon paprika, ½ teaspoon chilli powder, ½ teaspoon garam masala
1 teaspoon of garlic puree, or ½ teaspoon of garlic powder
Optional: ½" grated ginger, or ½ teaspoon of ginger powder.
1 tablespoon of tomato ketchup (or ½ tablespoon of puree)
1 teaspoon oil
Salt/pepper to season – add these when you wish if you use them
To Make Keema Minced Lamb:
Peel and chop the potato into small pieces, or grate it.  Put the potato into a microwave safe bowl and cover with water. Microwave for 2-3 minutes until soft. Leave the potato in the water until you need it.
Cover the peas in boiling water until needed, so they defrost.
Finely chop the onion and microwave it with the oil for 2 minutes, stirring half way through.  Note: this can be cooked in a microwave safe mug as the quantity is quite small.
Add the ginger and garlic to the onions and microwave for 30 seconds.  Add the rest of the spices to the onion and mix them all together.  Microwave for 1 minute.
Use a large dish for the lamb – microwave the lamb, covered, for 3 minutes, then stir it and microwave for 1 more minute, then drain off all the excess fat and microwave the mince for 1 more minute (total 5 minutes).
Add a splash of boiling water and a generous squirt of tomato ketchup into the onion and mix it all together to make paste.
Drain the potatoes and add them to the mince.  Add the onion paste mix to the lamb and potatoes.  Combine and cover. Microwave for 2 minutes, let it rest for 1 minute; stir and microwave for a further 2 minutes, then let it rest for 1 minute.  Give it all a stir and microwave for one final minute (total 5 minutes of microwave time).  You will be able to see how it's getting on and decide for yourself when it's "good enough to eat".

Drain and add the peas to the keema minced lamb, stir the peas through.  Microwave for 2 minutes, stir and microwave for 1 minute.  Leave the dish covered until it's time to serve
Make your spaghetti and serve!  Microwave Spaghetti Recipe.
Notes & Variations: 
You can make this by cooking a lamb quarterpounder burger – microwave the burger for ~3 minutes, turning it 2-3x and draining off the fat, then shred the burger into pieces, combine with the onion/paste, peas and potatoes and continue!
You can use this recipe with beef mince, or a quarterpounder beef burger!
Use a whole fresh chilli instead of chilli powder.
If you don't have all these spices, then you can use any combination of the above, or similar, that you've got in the house – a keema lamb dish is simply "spicy lamb mince", so work with what you've got already!
Menu Cost £1.20: 
Using frozen minced lamb from Aldi, I've used about half a pack here, so it's £1 for the lamb mince.  The rest of the ingredients total about 20p.