Easy Homemade Fish Cakes From Scratch
|
It's easy to make homemade fish cakes from scratch – probably one of the easiest freezer staples around.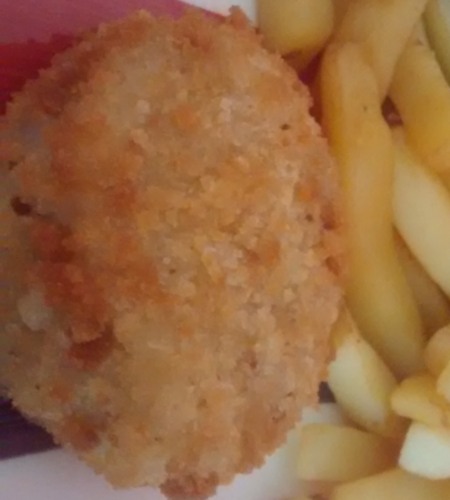 Of course you can make it hard, with difficult to obtain ingredients, but there's really no need.  You can make a batch of homemade fish cakes from scratch in just a few minutes, then they freeze and can be cooked from frozen.  I've always got these as a handy "go to" quick meal.
Ingredients:
Mashed potatoes, preferably cold*
Fish, cooked/cut into flakes or pieces*
Breadcrumbs, a beaten egg, flour – all for the coating
Seasoning: salt and pepper at least
A little oil for frying or baking
*The quantity you use might depend on what you've got available, but it should be "by volume", so you don't have to weigh anything.  Just make sure that the quantity of fish is at least the same quantity as potatoes.  If you have to skimp on the fish then it won't matter except you'll end up more with potato cakes than fish cakes!
The above ingredients come in a variety of ways for food cheats.  You can make your mashed potatoes from scratch and then use those – I'll typically make extra mashed potatoes when I make them as they can be boxed up in a lidded box and kept in the fridge for 3-4 days and microwaved hot again.  But there are easier alternatives if you're simply not able to make your own mash, including using instant mash!  Of course you won't get the same quality of results, but cooking is a balance between what you're able to do and what you're prepared to do.
The fish, again, comes in a variety of ways.  You can buy fresh fish and poach it in milk, or you can poach fish in the microwave in just a few minutes, or even open a can of tuna!  It's also perfectly acceptable to buy frozen fish – probably the easiest for most people.  You don't have use expensive fish, such as cod/haddock, you can look for cheaper fish such as coley, or pollack.
Breadcrumbs are, again, offering you options!  You can buy a packet of breadcrumbs, or make your own breadcrumbs on demand by toasting some bread, then placing that inside a food bag and breaking it up into breadcrumbs.
Alternatives to Breadcrumbs: Of course, you don't have to use breadcrumbs! There's a ton of alternatives here: Breadcrumbs Alternatives
Method:
Combine the cold mashed potato (cold works better than hot as it's less liquid/messy) with the fish.
Add seasoning – just salt/pepper, to taste, is adequate, although you can push the boat out and add chopped parsley or chopped chives at this point if you're feeling in the mood to go the extra mile and happen to have those to hand.
Shape the mix into fish cakes by hand.  You can use your hands to do the shaping, finishing them off with the back of a dessert spoon or a palette knife for a nice even shape.
Now you need to coat the fish cakes with the breadcrumbs, or alternative.  Put the beaten egg into a shallow dish, the flour into a second dish and the breadcrumbs into a third – each has to be larger than your fish cakes.  Dip each fish cake first into the flour – this coating will ensure the egg sticks to the fish cake.  Next dip the fish cake into the beaten egg, then into the coating.  Set aside until you've done them all.  You can now repeat the last two steps, giving them a double coating by dipping them in the egg and breadcrumbs.
Fry the fish cakes for 4-5 minutes until browned, or bake them in the oven at 200 degrees for 25-30 minutes, although if you're just cooking one fish cake then baking is overkill!
CHEAT: It is possible to completely bypass frying or baking the fish cakes and using a microwave instead.  As the potato and fish are already cooked, you're simply warming them up, so you have two choices:
Choose a nicely coloured coating, so they already look brown.
Microwave the fish cakes using a microwave browning plate
Freezing Your Fishcakes:
If you're batch cooking, then, having made your fish cakes from scratch, you can freeze them at the stage where you've just coated them, or once you've fried/baked them.
Lay the fish cakes out on a tray and put them in the freezer for two hours, before transferring them to plastic bags or freezer boxes.  This makes sure they don't stick together, especially if you slip a piece of baking or freezer paper between each one.   These fish cakes will keep well in a deep freezer for up to 3 months, after that time they aren't dangerous to eat, they'll have just lost a bit of their taste.  It's taste and texture that deteriorates over time.
If you've not made fish cakes before, then why not start with some of the food cheats, using instant mashed potato, a tin of tuna and coating it with flour/cornflakes …. then work your way up the scale of how much extra effort you're prepared to put in for a better result.   Your own cheats version will still be better than the cheap shop-bought ones you can buy.