Ashfield Farm Garlic Chicken Kievs Review
|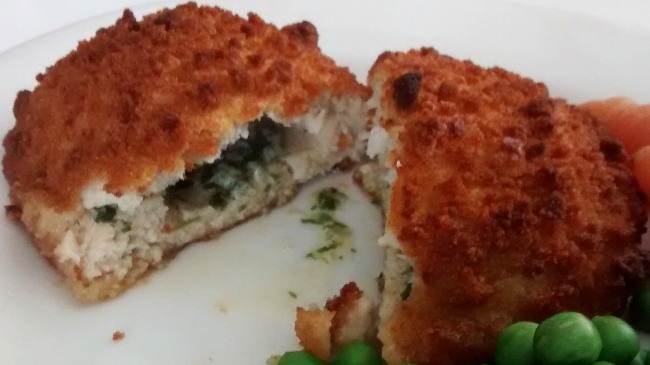 The Ashfield Farm Garlic Chicken Kievs were on special offer this week when I popped into Aldi and I found myself grabbing a pack.  I've really no idea why, I'll put it down to some middle aged madness as I've not bought a chicken kiev for over 15 years!  I've been making my own, so was keen to see how they compared.
The pack contains two chicken kievs filled with a garlic butter filling and the total pack weight was 260grams.  The pack describes them as you'd expect for a chicken kiev: tender chicken filled with garlic butter and coated in breadcrumbs, from farms we know and trust. There's also a "100% British chicken" label on the pack.
One chicken kiev is 428 calories, so it has the red colour on the label – but everything's "in balance" so it's OK to eat one…. just be aware of what else you eat for the rest of the day (or not, depending on whether you've run out of goodies!).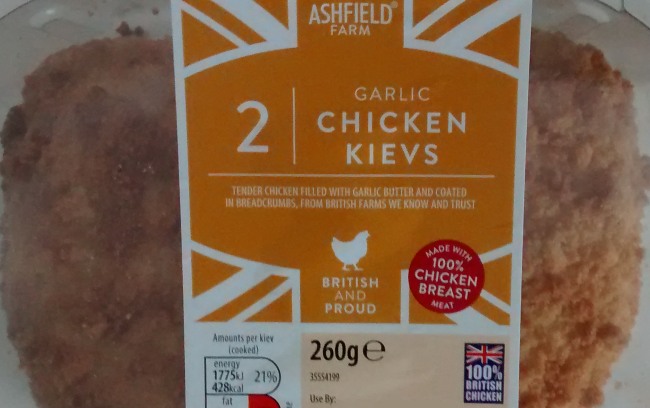 Chopped & Shaped Chicken 
This is how the pack describes how the chicken kiev was made – you might be surprised to find that most chicken kievs are made in this way as it's the only way they can get a consistent size/weight and shape to them.  They are not 100% chicken breast in one piece, they are just 100% chicken chicken.
Most chicken kievs on the market in this price range and below (and even a lot above) are made from chicken that's been chopped up and then reshaped into the shape we understand as "chicken kiev".  I make my own chicken kievs using chicken mince, which is the same really!
The labelling says there's 88% chicken – so a 260 gram pack contains ~230 grams of chicken, with the remaining 30 grams being made up of the garlic butter and the breadcrumb coating.  The chicken has added water (62%), so if you do the maths I make it that these contains 140 grams of actual solid chicken, plumped up by the added water by 62%.  Not that I worry/care – really, I've bought a pack of chicken kievs in the Aldi special offers week, for £1.25 for two.  I didn't expect the Queen's own organic chickens individually shaped by her personal chef.
How Good are They?
Well … edible is the word.  I cooked the first one in my mini oven, in 25 minutes and I found it dried out more than I expected, although I did have the top (grill) element on AND the bottom (oven) element – so that could be entirely down to the way I chose to cook it.  In short: shouldn't have done it like that.
For the second portion I'll either not use the top grill after the first five minutes, or I'll wrap it in foil.
I found them a little on the small side once on the plate (or maybe I need smaller plates).  I found the breadcrumb coating to be quite thick, thicker than I expected.  It was nice and crispy.  There wasn't very much garlic butter, in fact I couldn't really taste the garlic at all now I think about it.
Quality wise and taste wise they were fine.  No "funny bits", which make me feel ill if I find these and there were none in the kiev I ate.
What to Serve with Chicken Kievs:
Given completely free choice I'd opt for chunky chips and peas, or new potatoes in garlic butter with an assortment of vegetables.
Meanwhile, back in the real world, I serve what I've got – so I served the first kiev with some chantenay carrots (another of Aldi's special offers this week at 59p/300 grams) and some peas from the freezer.  I didn't have any small or new potatoes.

Can You Freeze Chicken Kievs?
These can be put into the freezer – if I were to freeze them I'd remove them from the packet and tightly wrap each kiev in foil (enough foil to use to cook it in the oven in the future).  Then I'd put the foil wrapped portions into a freezer bag with the cut out cooking instructions panel and the part of the label that tells me what's in there.
Cooking from chilled/defrosted these take 22-25 minutes in a pre-heated oven at 200C (180 fan, 190 degrees mini oven).
Cooked from frozen add a further 10 minutes to the cooking time.
Would I Buy These Again? 
Probably not, there was nothing "bad" about them, they just didn't knock my socks off.  They're easy to cook, they freeze easily, they take up little space in the freezer, they cook from frozen – so they have a lot of things going for them.  I guess these just aren't really for me.  But I do still have a second one to eat!