Lidl Harvest Basket Frozen Hash Browns Review
|
I decided to try the Lidl Hash Browns, which have the Harvest Basket label – the bag is 750 grams in weight and I was expecting these to be "like any others" – after all, how can a hash brown be any different?  You can never see inside the plastic wrapping to know what you're actually getting, so I wasn't expecting anything different when I bought them.  The cost at the time of writing was 72p for this bag.
The Lidl hash browns are larger than the Iceland hash browns I'd been buying, double the size in fact – and they are much browner when you remove them from the packet.  There were 10 large hash browns inside the packet, so each weighs 75 grams.  I was really looking forward to these!  I didn't expect them to be larger or browner – both qualities I'd been looking for in frozen hash browns.
From the ingredients panel it says the hash browns are made with shredded potato and sunflower oil, there's also a little onion powder in there.  The ingredients list isn't long at all, just: Potatoes, 7% sunflower oil, dextrose, onion powder, salt, stabiliser, diphosphates.
Calories in Hash Browns:
The calorie count for these is given per 100 grams, at 166kcal (calories), indicating that a portion is 200 grams.  This isn't very helpful as you really want to know how many calories are there per hash brown.
I know the packet is 750 grams, so the calories in the whole packet are 1245 – and each hash brown weighs 75 grams (as there are 10 in these packets), so the calories per hash brown are 125 calories.  I'd suggest that ONE of these is a portion, although they're so nice I'll be eating two each time for this first bag… before I rein that in and limit myself to just one 🙂  Portion control is important, but you still need to "enjoy" some things when you like them!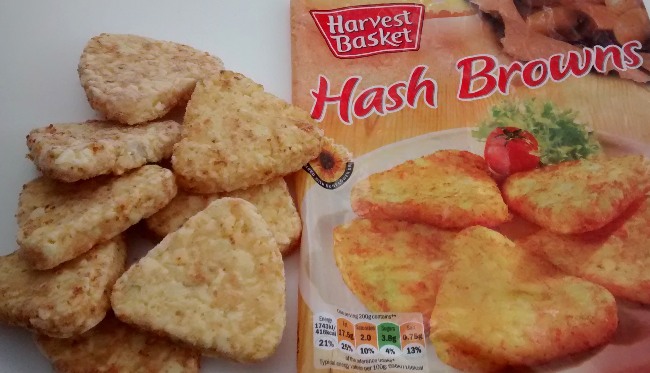 Microwave Cook Hash Browns?
I had bought these hash browns intending to cook them in the microwave oven. The fact they were browner when taken out of the bag was a bonus as microwave cooking adds little/no colour to food.
The bag doesn't say you can microwave them – it just gives instructions to oven cook for 10-15 minutes, or deep fry for 3-5 minutes – but that never stops me from using the microwave to cook food.  They simply don't crisp up, which is down to personal preference, so it's a trade off of end result -v- time/effort.
I found that these hash browns cooked quickly and evenly, looked great as they were a darker colour and were really much more satisfying for the weight than using smaller hash browns.
I will definitely stick with the Lidl Harvest Basket hash browns from now on.
Menu Cost: 
With 10 large hash browns in the packet and the packet costing 72p, these are 7.2 pence per hash brown.
Review:
These are a winner.  I'd recommend them to anybody. Definitely a 10/10.