Easy Toad in the Hole Recipe
|
I love Toad in the Hole, it's a real winter warmer – and a lot easier to make than you think.
Here's a "no weighing out" recipe for it, ideal if you've not got the inclination or equipment to measure out and weigh out ingredients.  It uses an American scale of cups – a cup is 1/2 a pint and the recipe just requires you to use the same in quantity, without having to know the weights.
This is also a recipe for Yorkshire pudding, if you don't have sausages!  Or, if you've got mince, then why not roll the mince into sausage shapes, or into small meatballs.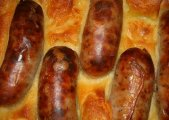 I hope you like this Easy Toad in the Hole Recipe:
Oops, there was a problem displaying recipe number 15521. Make sure you are the owner of the requested recipe.