Shippam's Classic Crab Paste
|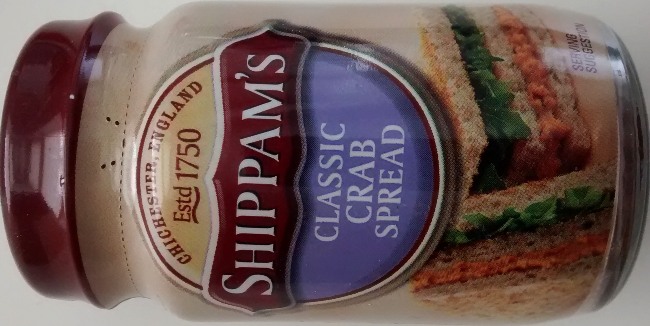 I love crab – fresh white crab meat – but I am also partial to crab paste, so will usually have a jar in the cupboard as it's so handy for quick snacks, or even meals!  Shippam's is a brand I trust so will never hesitate to grab one of these jars from the shelves.
Shippam's Crab Paste is a spreadable crab sandwich filling – which can also be used like a crab paté on toast, which is how I often eat it.  It's also tasty as a jacket potato topping, or even as a quick crab dip recipe (just open the jar and spoon out) – perfect for lazy parties (and midnight feasts).
The jar contains 70% brown crab meat and soft cream cheese, with a raft of other ingredients in tiny amounts – with no artificial flavours or colours – for allergens, it does contain a little wheat and milk.  Once the jar has been opened you store it in the fridge with the lid on and it's good for 3 days. The crab meat is from crabs caught in the North East Atlantic.
This crab paste actually tastes of crab – not surprising as it does contain 70% crab, which is quite a generous amount.  The Morrisons crab paste only has 20% crab, as an example comparison with a similar product!
Calories in a Jar of Crab Paste: 
This is a 75 gram jar.  The calories per 100 grams are 152, so a whole jar is 114 calories.  One jar will stretch to two generous sandwiches, or will spread onto four pieces of toast, which means it's quite a low calorie item in my book.
It's 7.7% fat and 1.3% sugars – which sound OK to me!
If you're looking for a tasty toast topper, sandwich filler, or something tasty to dip your celery or carrot sticks into I'd say give this a try.
Crab Paste Recipes: 
If you're looking for crab paste recipes to use up a jar of crab paste lurking in the cupboards, and don't fancy using it as a toast topper, jacket potato topping, sandwich filler, or dip for yourself or parties, then try:
Crab Pasta: Mix a jar of crab paste with hot/cooked pasta ribbons and serve as a quick crab pasta.  One 75 gram jar of crab paste would fit nicely with 2-3 portions of hot pasta.
Crab Noodles: Mix a half a jar of crab paste with a small pack of dried noodles that've been cooked.  Up to half a jar (35 grams) per person would be about right.
Jacket Potato Fillings: A jar of crab paste would make a great addition with hard boiled eggs as a jacket potato fillings.  About 20 grams of paste per boiled egg.
Crab cakes.  A quick cheats crab cake can be made by mixing crab paste with mashed potato and then frying or baking.
Muffin toppings:  great on a toasted muffin, spread it thick and tuck in.