Wartime Recipes, Collection of Recipes From the War Years
|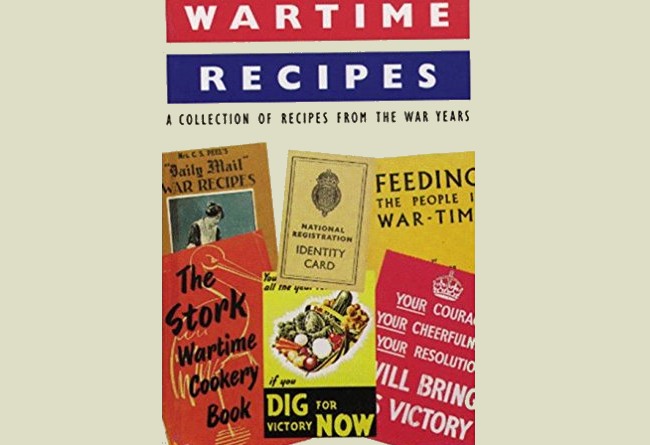 Having a sort out in the bookshelf, this small "Wartime Recipes A Collection of Recipes from the War Years" book caught my eye … it is a Jarrolds Gift Book, which is a compilation of wartime recipes, with some wartime photos.  Published by Jarrolds Publishing in 1998 it's a tiny recipe book, about the size of an index card.  The ISBN number is 0711710449.
It's one of those books that just catches your eye as it's small and cheery …. and you end up buying it!  It was a Secret Santa gift I received many years ago, so somebody else agreed with me on that!
The book is a fascinating and nostalgic collection of over 40 wholesome recipes from the Second World War, illustrated with propaganda notices, photographs and adverts of the times.
There are 45 pages, with recipes for Soups, Main Meals, Vegetable Cookery and Sweets & Puddings. Most pages contain a food fact, which is often a tip about preparing the meal.  All of them contain very few ingredients, little in the way of equipment and not much skill or experience at all!  Wartime cookery was all about feeding people affordably, without making it too hard for people to follow the recipes.
Many people are going back to these recipes to try to make food cheaper, for me, it's the food I grew up with as my mum was 14-20 during the War, so this is the food she would've been cooking at home, for her grandparents and uncles, who she lived with.
Although many foods were rationed, a lot of food wasn't rationed and so long as you could find it for sale, or grow it yourself, there was unlimited food available!  My maternal family had a long history of running and being part of the Village Allotment Society and so were well placed to immediately turn this to their advantage.  My mum used to have the job of feeding their pig on the allotment, leading to her lifelong dislike of pork!
Although many recipes use an oven, there were many households that still didn't have an oven, but who were still cooking over an open fire in a pot.  My mum was brought up by her grandmother and they'd only recently moved into a new house, with an oven, just before the War started!  Until then, if they'd wanted to bake anything, mum used to have to take it to the bakehouse at the end of the street, then collect it later.  Her grandparents had lived in the house since ~1905 to ~1933 and for her granny it would've been an improvement as it had running water, whereas she'd been brought up having to go to the village pump to collect water.
So what's in this book?  You can buy the book on Amazon UK, at prices from just a few pennies, but there's no "Look Inside" feature to get the list of recipes.  So annoying, eh!  Well, here's the list of recipes in this Wartime Recipes book, split into the the four sections of Soups, Main Meals, Vegetable Cookery and Sweets & Puddings:
Index: 
Victorian Scotch Broth; Haricot Soup; Potato Soup; Barley Soup; Spinach Soup with Dumplings; Dumplings; Parsnip Soup; Gravy Soup.
Beef Hash; Devilled Fish; Roast Hearts; Tripe and Onions; Corned Beef Rissoles; Fillets of Pork and Leek Sauce; Mince Slices; Savoury Meat Roll;  American Mince; Liver and Bacon with Rice; Smothered Sausages; Beef a la Mode; Savoury Tripe Casserole.
Savoury Onions; Turnip Top Salad; Pathfinder Pudding; Vegetable Casserole; Tomato Macaroni au Gratin; Mock Duck; Potatoes au Gratin.
Caramel and Semolina Mould; Eggless Sponge Pudding; Bread Pudding; Steamed Date Pudding; Prune Pudding; Date and Raisin Pudding; Spotted Dick; Apple Cocada; Honey Walnut Pudding; Brown Betty; Coconut Orange Pudding; Florida Pudding; Baked Sultana Cake Pudding; Lemon Tart; Wartime Lemon Curd
I'll NEVER be persuaded to try any of those tripe recipes, but there are quite a few recipes there I grew up with and still cook variations of today!  Simple, retro, recipes… what's not to like!