Microwave Know How Edition 01
|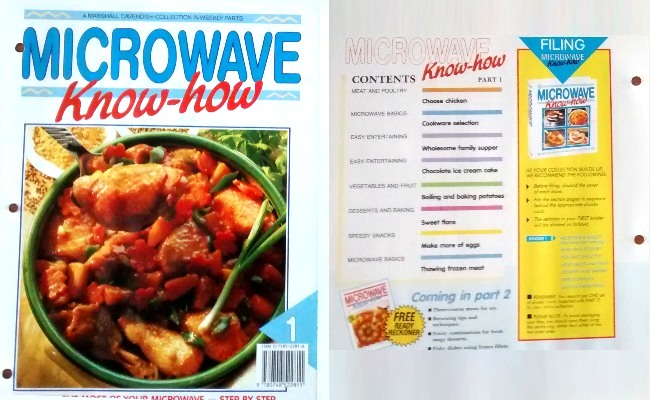 I'll be looking through the Microwave Know How chapters that I've got and seeing what great ideas and recipes I'd completely forgotten about.  This is a great time for me to document for myself – and interested readers – what's to be found in each pack.
This was a fortnightly magazine that you collected over time and sorted into binders, building up to a complete resource for using and cooking with a microwave.  Now over 30 years old, the recipes are still relevant and, no matter how old you get, you never really stop liking the food of your youth 🙂
Each fortnightly update contained a few sheets to be slotted into different sections.
The photo on the front cover shows the recipe for Exotic Chicken, which is a microwave chicken casserole using chicken legs, ground ginger, garlic, carrots, a can of pineapple, green peppers, onions and a selection of spices.
The Contents of this first edition highlighted: Choose chicken, Cookware selection, Wholesome family supper, Chocolate ice cream cake, Boiling and baking potatoes, Sweet flans, Make more of eggs and Thawing frozen meat.
Choose Chicken is in the Meat & Poultry section and gives you the recipe to microwave a whole chicken, including tips on how to colour it so it "browns" in the microwave.  The tip here is to mix together equal parts of melted butter and a browning agent (e.g. soy sauce) and rub or brush that onto the chicken skin before microwaving).
The four chicken recipes in this section are Casseroled Chicken, Italian Chicken, Exotic Chicken and Braised Chicken.
Cookware selection was from the Microwave Basics section and, as this was the first edition, included information on how microwave ovens work and how to use a microwave. There are also 15 basic cooking techniques including arranging food, rearranging food, piercing, stirring, breaking up, covering, rotating/turning, shielding, standing time, resting time, stacking, browning, defrosting, reheating and food composition.  There's also 10 freezer to microwave tips and 10 tips for combination oven cooking and a quick microwave power conversion chart for 600-700 watt ovens.  These days microwaves tend to run at a higher wattage, my small microwave is 800 watts.
Thawing frozen meat is also in the Microwave Basics section.
Wholesome Family Supper and Chocolate Ice Cream Cake are both in the Easy Entertaining section. This gives you a "party style dinner on the table in less than an hour".  The recipes are Orange Endive Salad, Saffron Brown Rice, Wine Poached Fish, Fruit Compote and Lemon Broccoli.
Boiling and baking potatoes are for the Vegetables & Fruit section. There are a couple of pages showing you all you need to know about how to microwave bake and microwave boil potatoes, as well as a list of baked potato fillings. Recipes include: Spanish potatoes, stuffed potatoes, German potato salad, Scalloped potatoes and Chunky Potato Soup.
Sweet flans are for the Desserts & Baking section, where you're treated to the information that "Shortcrust pastry cooked without a filling becomes crisp and has just as good a flavour as pastry coked in a conventional oven, but it does not become brown"- that in itself is priceless information!  Recipes under the Sweet flans section include Pineapple Lemon Pie, Meringue Topping, Shortcurst Pastry Case, Strawberry Glace pie, Wheatmeal Crumb Case, Glazed Peach pie, and Raspberry Mallow Slice.
Make more of eggs is in the Speedy Snacks section and there are recipes for Pepper Souffle Omelette, Sweet French Toast, Broccoli Omelette, Sausagemeat Bake and a Quick Egg Supper.
The whole collection relies heavily on using LOTS of full colour photos to show you step by step all the processes involved.
What's great about this retro and vintage recipe collection is that it doesn't include the use of advanced equipment that you might not have – and, as it uses traditional ingredients, you know that you can easily find and buy them!