Cheese & Onion Pasty, Mash & Baked Beans
|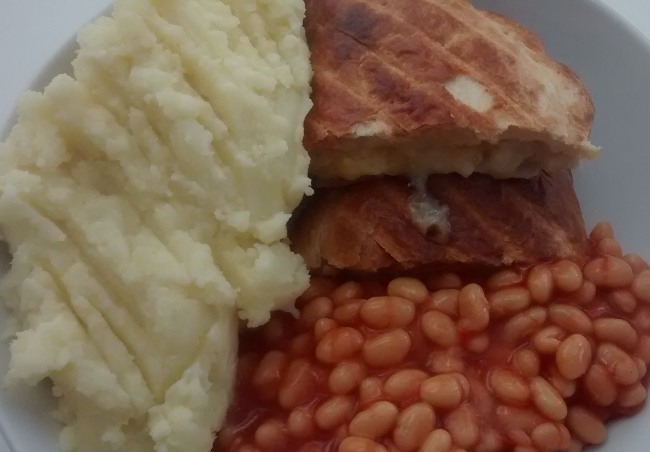 My thoughts turned to pasties this week – and, having brought my pasty crimper out of retirement yesterday in early preparation for my Christmas menu planning, my mind was firmly set on having a pasty for lunch – so today I couldn't help but have a quick lunch, made in just 15 minutes, of a cheese & onion pasty, from Aldi, served with mashed potatoes and baked beans.
The weather's turned quite nippy overnight, so a warming lunch was just what I needed!
This was a cheap lunch, although not an every day lunch as these pasties are a little high in calories for the size you get.  If I eat more than 1300 calories per day I gain weight, so I do try to keep an eye on the calories in everything I eat.  I still eat what I like, I'm just "aware" of my total intake over time.
So what's here:
The potatoes are from Aldi, I started with 360 grams, which reduced down to 270 grams once I'd peeled them.  I don't always peel potatoes, it depends on the potato and my mood.  These, being the cheap ones, didn't have great skins in this bag, so I peeled the potatoes.  I then used my microwave steamer to make the mash: Steamer Mash.
The cheese & onion pasty cost just 39p – I really like these, they're made by Crestwood and sold in Aldi. You can read more about these pasties in my quick review: Aldi Crestwood Cheese & Onion Pasty Review
The baked beans are from Sainsburys, these are from their reduced salt, reduced sugar, baked beans range and I've been eating these for at least 6 years.
Time to Cook: 
I used my toaster oven to bake the pasty – that took just 15 minutes.  The potatoes I steamed in the microwave in 12 minutes and to heat up the baked beans in the microwave was just 2½ minutes.  So the whole meal was on the plate in 15 minutes.  Eat your heart out Jamie Oliver 🙂
Not only is this a really warming and filling meal, full of taste and texture, it's also a budget busting, penny pinching frugal choice.
Menu Cost – 73p: 
2.5Kg of potatoes cost £1.19 this week, using 360 grams of them was a cost of 17p.  I'll round that up to 20p to cover the knob of butter I added to them.
The Aldi cheese & onion pasty cost 39p.
The baked beans were half a can of Sainsbury's Reduced Sugar and Reduced Salt beans, costing £1.15 for four tins, so the half tin cost 14p.  I put the other half into the fridge for now as I'm sure I'll use them in the next 2-3 days, but you can freeze baked beans.
Total cost of this very filling meal was £0.73.  That's frugal!
Other Cheese & Onion Pasties: 
I do like to try out different varieties, rather than simply buying the same as I bought last time – so will always keep an eye out for Cheese & Onion pasties if I'm looking for a quick snack meal with pastry. I am forever looking for that knockout product that'll become "the one" … if I ever find "the one" I'd stick with it, meanwhile, I'll keep trying out what I stumble upon.
Since eating this, I've tried the Welsh Pantry Cheese & Onion Slices, which I picked up when they were reduced in price.  Overall, I found the filling of the Welsh Pantry Cheese & Onion Slices were probably a little better tasting and chunkier than the Aldi version, usually costing 50p each – although when I bought them they were half price, so cost me just 25p each.