Specially Selected Sweet & Fiery Jalapeno Quarter Pounders, Aldi
|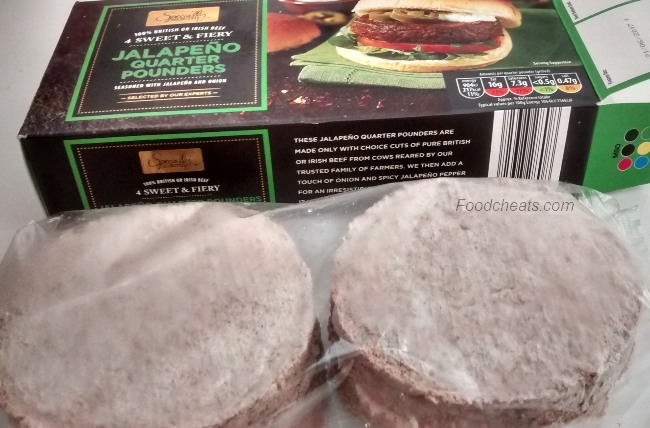 I'm trying out all the Aldi frozen burgers – and this time these frozen jalapeno burgers from Aldi sounded really tasty, so they came to live at my house, but not for long!  I hope they're as good as they sound!  I'm currently on a quest for tasty burgers as I realised I don't eat them often enough, so it was on my mind to eat more burgers this summer.
Labelled Specially Selected Sweet & Fiery Jalapeno Quarter Pounders they are made with Pure British Beef and Pure Irish Beef, with added onion and jalapeno pepper.  Although you can cook these burgers under a grill in 16-19 minutes, in a frying pan in 13-15 minutes, or even on the BBQ outside (bizarrely they tell you to cook them before putting them onto the BBQ for a final 5 minutes for colour), I will be cooking them my usual way … in the microwave.  They don't give you instructions for that, but it's how I cook 99% of the burgers I eat!
Once opened, the burgers are not individually wrapped, so I use a plastic freezer clip to reseal the packaging once I've removed the first one.
These burgers contain 91% beef, 4% jalapeno pepper and 2% onion.  The remaining 3% will be "all the other stuff" they put in, which the ingredients list says is rice flour, salt, dextrose, yeast extract, black pepper, black pepper extract.
Calories in a Burger: 
Each of these quarter pound burgers is 217 calories – that's not too bad is it!  For a calorie counter, it's all the other things you might eat with it that'll pile that weight on …e.g. the bread roll and chips 🙂
Watch out in the coming few weeks as I eat my way through this whole box of four quarter pounders!
I like to use the large bread rolls from Aldi for quarter pounders, as I do like the burger to be inside the bread roll and not hanging out round all the sides.
Costing, from memory, £1.69 for four quarter pounders, this means they're just 43p each.  Add in the cost of a bread roll, bit of cheese and a squirt of ketchup or relish and that makes a really fast and tasty meal, snack or treat that's affordable daily 🙂