Holme Farm Aberdeen Angus Frozen Mince Aldi 454g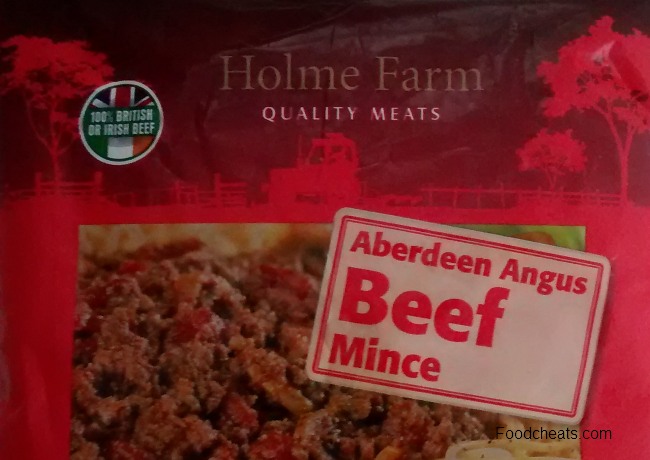 This week I've picked up a bag of the Holme Farm Aberdeen Angus Frozen Mince from Aldi, this is a good sized bag of frozen beef mince if you have a small freezer as it won't overwhelm you, with a pack size of 454 grams!  I buy frozen mince, rather than fresh mince and freezing it myself, purely because it's "free flowing" so easier to just pour out the quantity I want and not have to break up chunks of a frozen pack, or think ahead and freeze raw beef mince in small quantities that I "might" want to use.
This mince is a great way to have just a small handful of beef available for chilli beef toppings for pizza, or a couple of spoonfuls of mince to make a quick spaghetti bolognese for one.
The contents are 100% British or Irish beef, produced from cattle bred from pedigree bulls.
Cooking Instructions:
You can cook this mince exactly the same as fresh mince – including in a microwave oven, although the bag won't tell you about cooking mince in the microwave.  The bag's cooking instructions suggest that you shallow fry for 12-15 minutes. Heat a teaspoon of oil in a frying pan to a medium/high heat.  Add the mince to the pan and fry for 12-15 minutes until browned.
The instructions say "not suitable for microwave cooking" – but that's never stopped me!
What's Inside the Bag of Mince?
I do wish more packets would offer a viewing panel so you can see what you're buying – so often the photo on the front is of the product cooked, which could give you the impression that it's already cooked inside the bag!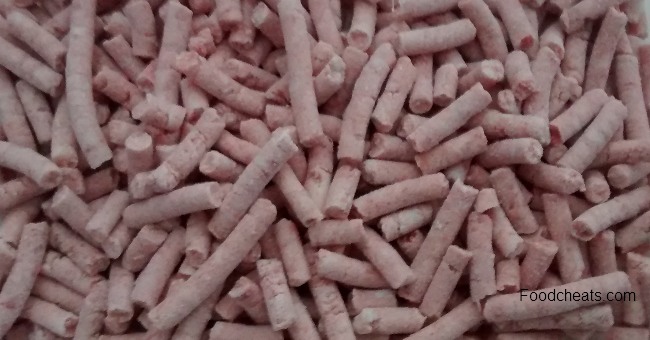 The beef mince has been reformed into neat pellets.  Personally I blot this idea out … for the sake of the convenience.
All I can say is that this frozen mince does the job for me – enabling me to simply pour out tiny quantities to add to dishes where I just want 1-2 tablespoons of mince, typically pizza toppings, spaghetti bolognese and even beef kofte kebabs!
Recipes for Frozen Beef: 
Here are some ways I've used this frozen beef mince in recipes: Recipe Ideas