Chickpea & Tuna Salad Wrap Filling
Having a can of chickpeas and a tin of tuna in your cupboard gives you the power of whipping up a fast wrap filling on demand: an easy Chickpea & Tuna Wrap filling – which you can make with or without the salad part, if your lettuce is wilting and you don't want the added fuss.  Ideal for a packed lunch, picnic snack, or healthy food on the go!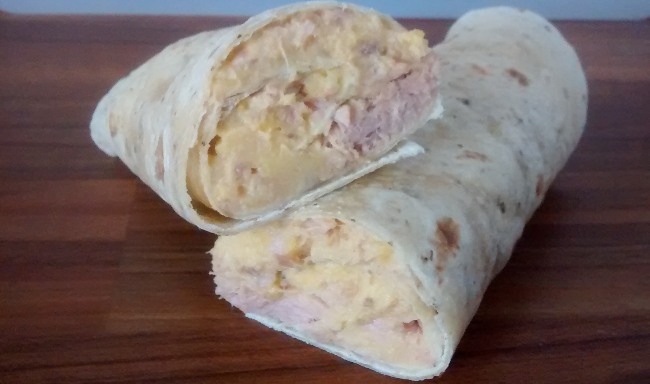 Ingredients:
1 400 gram can chickpeas
50 grams mayonnaise (a few heaped tablespoons), full fat or light
1 160 gram tin of tuna
1 tablespoon of mustard, optional (made up/paste, not raw powder)
1 small onion, red or white, optional
A pinch of salt
Method:
Open the can of chickpeas, drain off the liquid and give the chickpeas a good rinse in cold water. Pat them dry, then mash them: you can use a potato masher, strong fork, or a small food processor.
Open the can of tuna and drain off any liquid.
Combine the mashed chickpeas, tuna, onion, half the mayonnaise, mustard and salt in a bowl and give them a good mix through.
Add the remaining mayonnaise bit by bit until you get the consistency you like.
Your chickpea and tuna wrap filling is now ready and you can put it into a tortilla wrap, with or without salad (lettuce, tomato, cucumber).  This is a good pitta filling too.
Storage: 
Store your filling in a lidded pot in the fridge for up to 3-4 days.
Freeze:
You can't really freeze this wrap filling because of the mayonnaise, which doesn't freeze well.
Menu Cost:
The total cost of this is about £1.20 – how many wraps or pitta breads it fills depends on the size of your appetite, how generously you stuff them and the size of your wraps and pitta bread, which vary enormously!  This will make two well-filled wraps, or three slightly less generous wraps which can be padded out with salad.  If it makes three wraps, then the cost of one healthy wrap is just £0.48 including the cost of the tortilla.
A fast, tasty, quick lunch idea made from basic store cupboard ingredients that keep for months!
CollectionWraps